A couple of months ago, extremely talented macro and nature photographer Joni Niemelä got in touch to see if we'd be interested in covering his beautiful and eerie macro photos of the carnivorous plant Drosera.
I can't confirm or deny what my original response was, but it may have gone something like "does a bear shit in the woods!?" Okay fine, I was neither that vulgar nor creative in the moment, but I did jump at the opportunity.
Fast-forward some weeks and a lost email and we're finally ready to share this amazing series of fine art macro photographs with you—some of the most captivating plant photography we've seen in a VERY long time.
You may at this point be asking yourself: "what the heck is that thing in the photo above?" The answer: Drosera, a carnivorous plant that has been a bit of an obsession of Joni's for some time now.
"Droseras, commonly known as Sundews, have fascinated me almost as long as I have done macro photography," he told us, "and photos of these plants have been my ongoing project for several years."
These plans, he says, are found in moist or constantly wet areas like swamps. And while Joni's photos of the Droseras might make them seem huge, that's the optical illusion of macro photography at work.
"The plant itself can be as tiny as your thumbnail, so we are really talking about macro world here," Joni pointed out.
There's no doubt these plants are beautiful, but they're also deadly if you happen to be an unsuspecting insect in the vicinity.
"Those drops at the tip of each tentacle look like morning dew, [but] it's actually a substance called mucilage produced by this plant," explains Joni. "That stuff is sticky, [and] when an insect finds itself trapped on one of those it's a sure end for it… After the plant has lured and captured the insect it's going to be digested. The tentacle covered leaf will then open again and develop new drops for another meal."
We know what you're thinking… gross. But also kind of cool. And it's the "cool" part that Joni's photos capture in spades. Beautiful, ethereal, almost alien-like (H/T Colossal) photos that could even be described as cinematic.
Joni's Drosera images are split into two distinct photo series: Drosera and Otherworldly Blues—one published last year and one this.
The first depicted how beautiful and colorful Drosera can be, while the second, more recent series had a different feel entirely.
"I wanted to have some contrast to [the Drosera series], and created this eerie and dark mood for the photos," Joni tells us. "It reflects aptly the true nature of these carnivorous plants."
Both were captured using "normal ~100mm macro lenses" attached to either his Pentax K-3, K-5, or K7 and a Nikon D800. When the situation called for getting REALLY close, he used a full set of extension tubes with 50mm lenses attached to his camera bodies in reverse.
For lighting he had a macro flash bracket covered with a homemade diffuser. Post processing—which Joni says "was also a significant and enjoyable part of creating these photos" for him—was mostly done in Lightroom, with some final touchups saved for Photoshop.
Okay, enough talk. Scroll down to see a selection of photos from both the Drosera and Otherworldly Blues Series:
Drosera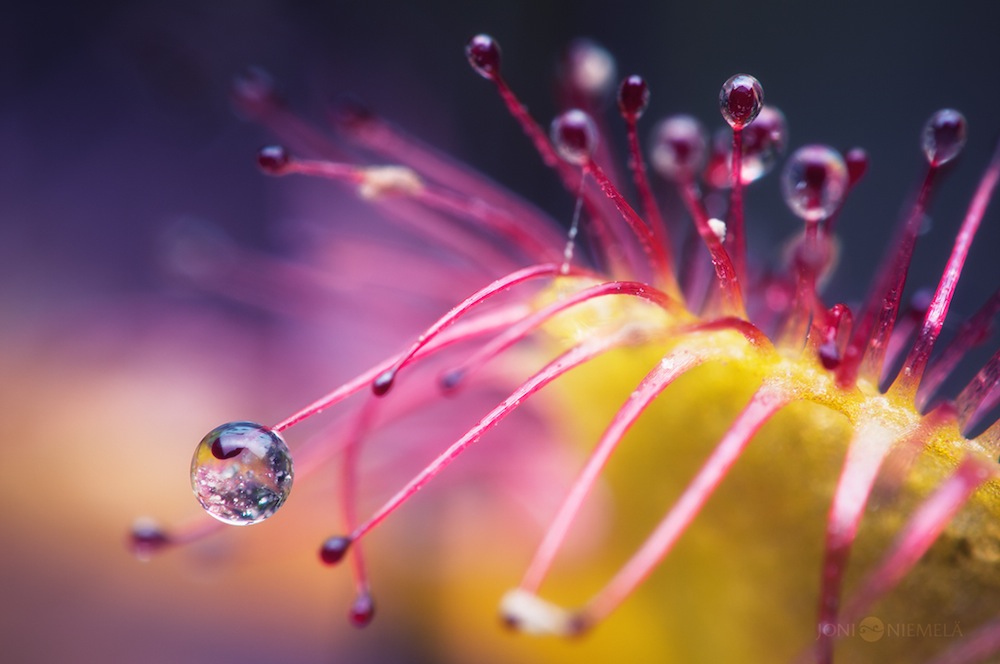 Otherworldly Blues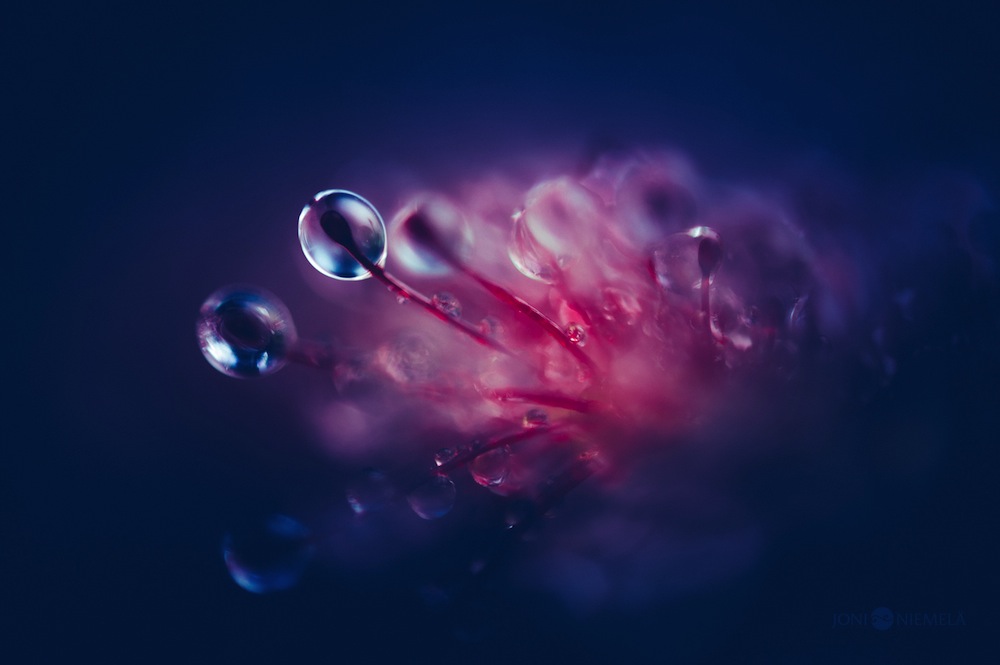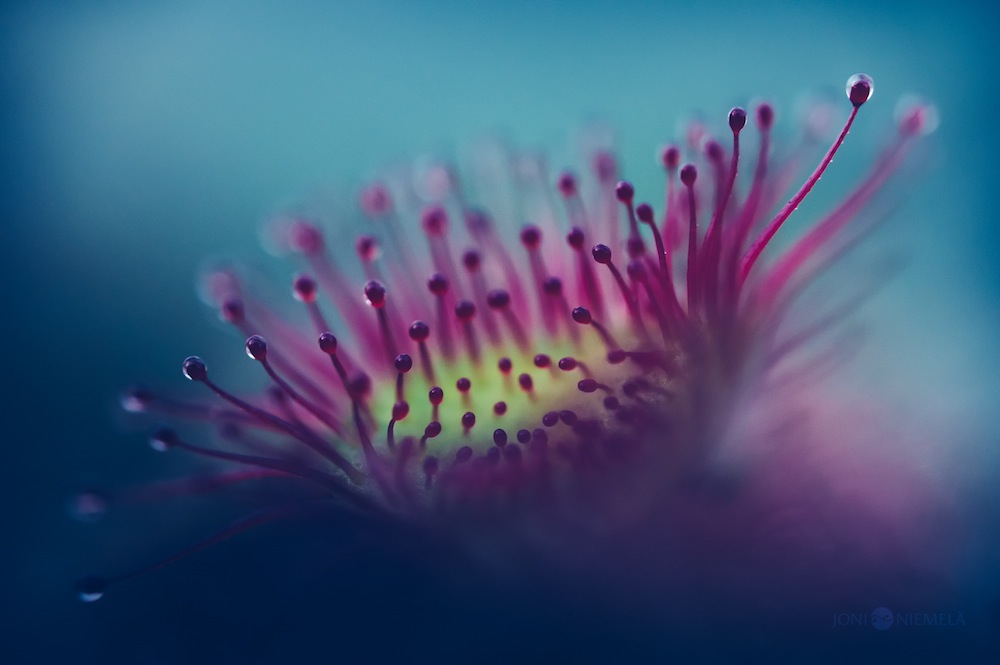 You can see all the photos in both photo series by visiting Joni's website here. And if you'd like to see more of his work—his Drosera photos are definitely not the only amazing images he's captured—be sure to give him a follow on 500px, like his Facebook Page, and say hi on Twitter.