Our editor is out at a press even this morning, so we're digging up some of our favorite articles from the ISO archives to keep you inspired, entertained, and educated! First up, the story behind this viral 'frozen' portrait that you've probably seen floating around 500px!
Scroll down to see how it was made, and then head to the home page to see a couple more classic posts from the 500px ISO archives.
---
Good portrait shots take skill to capture. Today, we're sharing Ryan Pendleton's story of how he captured the stunning stare of his little girl that resulted in his photo, "Frozen". First, we asked Ryan a couple questions to get acquainted with him!
Hi Ryan! Can you tell us a little bit about yourself?
I'm a 32-year-old husband and father from Missouri, USA where I live with my wife and two children. I started casually taking pictures about ten years ago but within the last five, photography became a true passion.
That's great! You have a lot of wonderful family shots. What's your favorite thing about photographing people? 
Specific to my own family photos, it's the pursuit of a split-second visual that, when viewed at some point in the future, will tell a story about a particular time in our lives. At the most basic level, it's the hunt for a perfect moment that most interests me.
Is photography a profession or a hobby for you?
Photography is not my main profession, although I do occasionally take-on paid work for certain clients.  I have a special relationship with photography that extends beyond "hobby" status, but falls short of a true profession. I am a Sales & Marketing Manager for a manufacturing technology company, Beckwood—that is my day job. The job affords me an occasional opportunity to travel, and my camera is always my traveling companion.
Which photo would you give to your Mom for Mother's Day?
For my mom—the one true best mom in the world—I would give her this image below, because it features both of her grandchildren. She has told me how much she likes this particular photo. Love you, Mom!
That's so sweet. Thanks for answering our questions, Ryan!
The Story Behind "Frozen"
At a certain point, my cabin fever began to take its toll. It was during one of the particularly cold stretches that much of the United States came to know so well this past winter. While there was enough snow on the ground to make Frosty several times over, the temperature was so low that it was causing otherwise sane people to throw boiling water into the air. We dared not venture out. The weather, and my increasing boredom, gave me the idea to try and bring the freezing temperature outdoors into our warm living room—through a photograph.
I have two gorgeous models who are on-call 24/7. On this day, my daughter gave fewer "not-another-photo-shoot" groans. By default, she won the gig and my son was spared the horror of holding still for 1/200th of a second. It was an overcast day, and the blanket of white snow was reflecting what already-soft light was shining through the clouds. Regardless of the photograph's specifics—which I'd yet to figure out—I knew I would be shooting with window light.
I pulled a few props from the closet, giving their snow hats and scarves the only action they'd see that week. One Russian-style fur hat stood out in particular. When I tried it on my daughter, I knew I had my prop. I wrapped a scarf around her neck, working quickly in order to get the shot before she too began to groan.  I placed her next to a large Southeast-facing window, which illuminated the left side of her face perfectly. However, the right side of her face was slightly underexposed, so I pulled out my large, 5-in-1 collapsible reflector to brighten up the side of her face away from the window.  Initially, I tried the gold reflective surface, but the results were too warm. I knew that I was going for a 'cold' photo, both in terms of the overall theme, and the white balance. So, I slipped on the silver covering which gave me the same punch-up in light, but kept the scene relatively cool.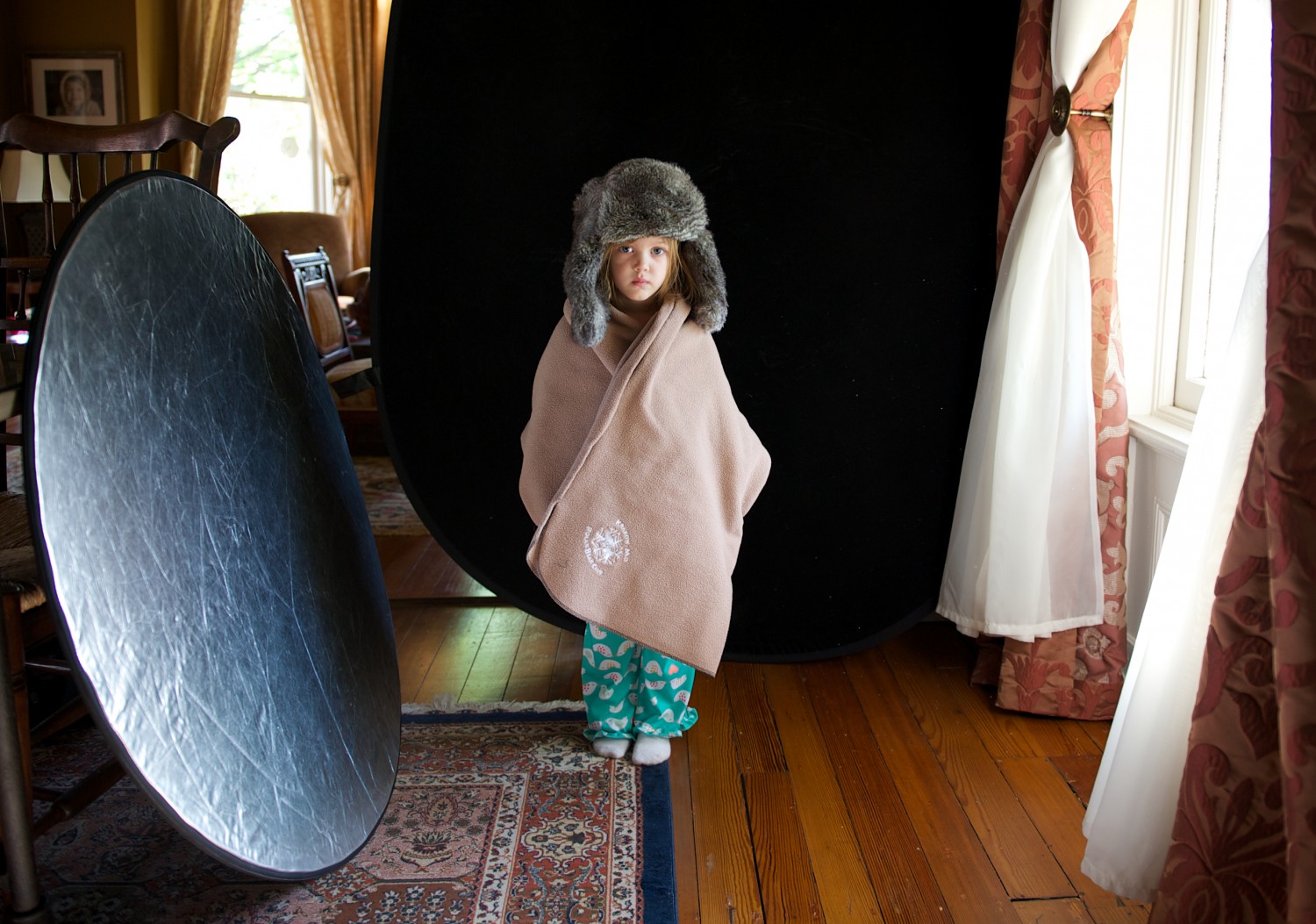 Since I virtually never remove it, my D700 was already wearing the lens I wanted to use: my Nikon 85mm 1.4G. This lens gives me decent scene compression, excellent contrast and sharpness, and the 1.4 Aperture allows me to work with a razor-thin depth of field for subject isolation.  I knew I wanted the eyes and face to be sharp, with everything else fading into blurriness.  I quickly made sure I was working at a low ISO (200), and set my Aperture to f/2. I then asked my model if she could tell me what color my eyes are by looking through my lens—a trick that still seems to work after about 8,000 uses. Ellie sat still just long enough for me to knock out 5 frames, before tearing off the hat to go play.
When I pulled the image up in Aperture, I was surprised how close to a finished photo it was straight out of the camera. The soft light coming through the window had done its job, as had my beautiful subject. I cropped the photo in the square format, so as to focus exclusively on her face, and added subtle contrast and sharpening enhancements. As I exported the final image, I thought of the movie we'd seen a few nights before, and my title became obvious.
You can follow Ryan on 500px to see more great shots.