Red Bull Photography recently joined our community with a verified brand profile of their own. This partnership isn't just about amazing photography — it's also about amazing stories. Behind every shot on Red Bull Photography is a talented photographer, a wild story, and a few lessons learned. We'll be telling those stories every week here on 500px ISO and the Red Bull Photography website.
It was a happy accident that gave 18-year-old photographer Lorenz Holder the chance to pick up a camera and start shooting sports photography. After a shoulder injury put his semi-professional snowboarding plans on hold, he started to shoot photos of his friends so he could continue to get out on the slopes with them. "When my shoulder was better, they all said, 'Actually you were better with the camera than you ever were on the board,'" he laughs, "And to be honest, I kind of agree with them. So from then on, I've never gotten away from the camera."
Lorenz learned the skills of his trade shooting film, with a camera that his mother bought for his birthday. Does he, like many other film photographers, think this is a better way to grasp the basics than going straight into digital photography? "I'm not sure it matters, really. I think you shoot in a slower, more considered way on film, but when you get a whole set of slides back, and they are all underexposed, then that's a bummer," he answers.
"I've gone back to film recently as I'm shooting some stuff on large format. That is such a different experience—loading every sheet of film individually in the dark, and thinking about everything. Then, when you are out in the field, you find yourself waiting for that time when everything comes together to make the shot. It's funny, I think that process has made me slow down a bit. I find myself working in the same slow way with my DSLR."
The DSLR in question is a Canon EOS 5D Mark III, which Lorenz uses with a selection of zooms and Carl Zeiss primes. "I think my favorite lens is the 70-200m f/2.8. On the EOS 5D Mark III this is a classic combination—a real workhorse." he says.
"I also take flash with me lots of the time—two Elinchrom units and two Broncolor units, so I'm never short of light. I don't think you can tell if you are going to need flash before you get to a location, and see what the ambient conditions look like. I guess the big advantage of flash is that you can light up the stuff you think is interesting and beautiful, and leave the rest in the dark. But I do think you can do a lot of harm with flash too, destroying otherwise beautiful natural light."
Lorenz says he's inspired by the work of other photographers, but not necessarily those working in sports and action. "I actually like a lot of landscape and architectural photographers," he says. "Someone once asked my what the perfect action picture looks like to me. In my eyes, it's when the picture could rightfully look good hanging on a wall without the athlete in it. The fact you've got some sports in there too, that's a bonus."
"I guess you could call it fine art sports photography. If the athlete is too large, then you can't see the landscape around them. But if they are too small, it's not good for them. You have to tread the right line. But these are often very beautiful surroundings. It'd be a crime to shoot in them without showing them off."
A significant moment in Lorenz's career came in 2013 when he won the prestigious Red Bull Illume photography contest with his iconic picture of a snowboarder next to a satellite dish. "That was really big for me—a great start to my career. I got a load more jobs afterwards, particularly from Red Bull of course!" he says. "It's hard to win a competition like that. You look at all those pictures, and there is not a bad one amongst them. You can't separate them according to whether they are good or bad; it's down to personal preference, so I was very lucky."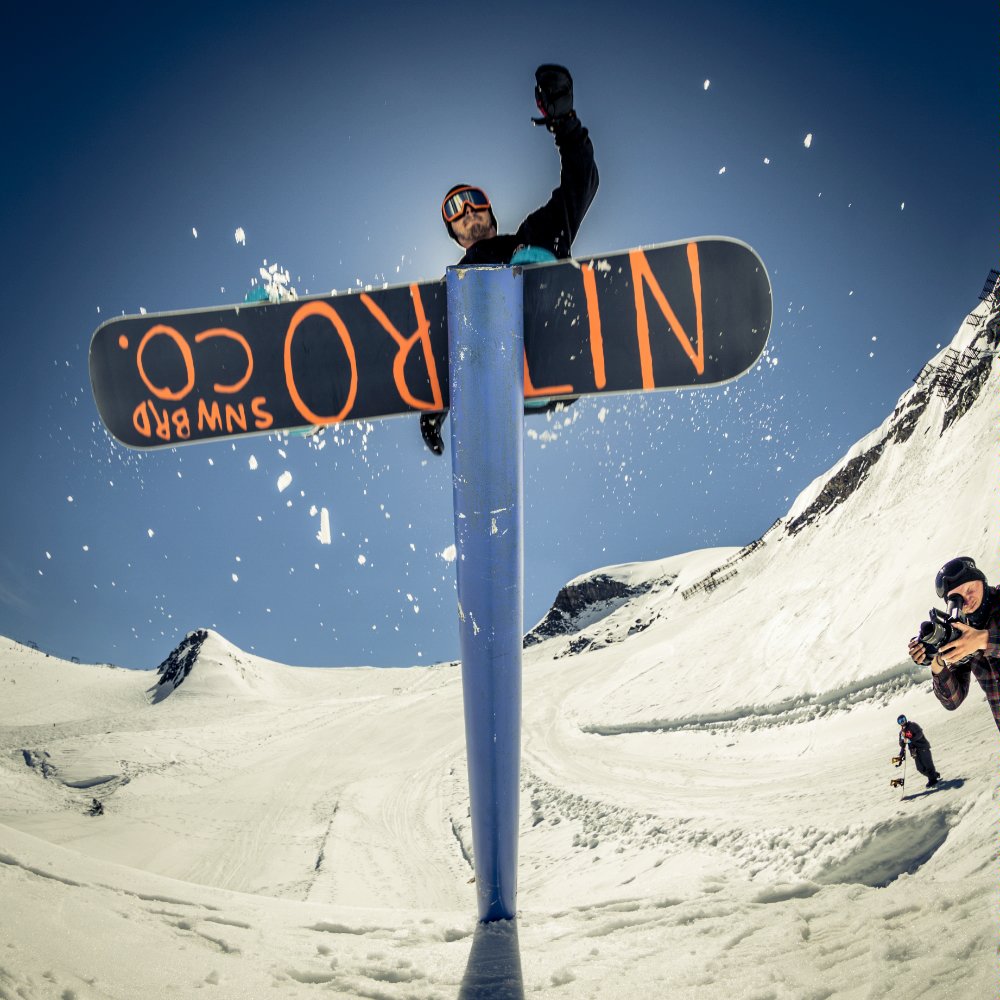 And is he going to enter again this year? "Yes, in fact I just got my entries during the last few days. I wasn't going to enter at first. I was thinking I hadn't got anything good enough, but I went away and shot three projects in four weeks, and now I'm very happy with what I have."
Excellent! We can't wait to see what he's entered.
In the meantime, you too can enter this year's Red Bull Illume Contest. In fact, in honor of the 500px Red Bull Photography Global Photo Walk in September 17, 500px has included a new category to Illume—the Mobile Photo Contest. Enter now for a chance to win a return trip for 2 to Chicago for the Red Bull Illume Winner Awards Ceremony on September 28th 2016.