Pedro Quintela is a history teacher, talented photographer, and one of the most motivational people on 500px. His latest piece of sage advice, published below, is for anybody who needs help telling a compelling story with their photography. Pedro is incredibly talented at doing exactly this, and in the post below he lists what he feels are the most important components.
For more about or from Pedro, follow him on 500px, check him out on Facebook, or license his images through the 500px Marketplace.
---
Regardless of the genre of photography you do, the gear you use, or the purpose of your images, there's one thing that could make a huge difference on the final outcome: the presence, or not, of a narrative.
Storytelling, or creating a story with your images, is made up of some basic components. Using the following pieces of advice, your imagination will be your only limitation. So, let's take a quick walk together and see what it takes to tell a captivating story!
1. The Idea
The obvious first step is the starting idea. If you're a creative person, it shouldn't be difficult for you to gather inspiration and ideas to work with; but if you're like me, perhaps lacking a bit of imagination and creativity, there's still a way so don't despair!
You will always have to check some basic boxes: finding a location, selecting a character, and providing some kind of prop for your subject to interact with.
The inspiration can come from a book you've recently read, a movie you enjoyed, a story somebody told you, or even the mood of a certain image you loved—so cheer up, because the sources are endless! It´s like writing a song, it needs a source to spark your creativity.
I use an app on my mobile devices to keep track of ideas, places, and references I read or see—as soon as they pop into my mind, I write them down so I don't lose them. I also take a lot of snapshots with my mobile phone when I see a location or an interesting subject in the places I visit. That way I won't forget about it.
2. Emotion and Connection
You can use the best camera in the world and have an incredible amount of technical knowledge, but if your image doesn't evoke an emotion in the viewer, it will lack that something that makes your image stand out from all the others out there.
It can be heartbreaking, outrageous, sweet, viral, horrific, dreamy, whatever. If you can awaken an emotion in and create a connection with your viewer, at least half the battle is won. You have given that person a reason to stop and really see what's going in your frame.
3. Planning
You have the idea, the place, characters, and your props; it's time for the best part—shooting!
Wherever the location is, a minute a day's drive away, the anticipation can be the best part. Your heart starts racing, a smile appears on your face… that's usually when you realize that the batteries are dead because you forgot to charge them.
So here comes a rule of thumb: make a list of what you need before going. If you use a backpack like me it's easy to check things off in a couple minutes. Don't let your enthusiasm keep you from properly planning the shoot.
4. Execute Your Idea
The key now is framing the story. By choosing to shoot the place from a certain angle and perspective, you'll give a proper context to your story.
Try to create a scene where you lead the eye from the foreground to the background, and avoid anything that might be distracting. Focus your viewer's eye on the character and what surrounds it. Generally, the scene works better without very few elements. Use only those that create interest and have a clear meaning… get rid of the others.
How you use the light in your scene is also fundamental to achieving emotional outcomes. Shooting a landscape scene in the middle of the day or a interior scene without any good source of light just isn't going to work out well.
Plus, how the light touches your character's face, or how it falls from a window can be decisive in your project. So pay a lot of attention to this and other minor details, like the difference between using a wide lens or a telephoto lens to create depth of field, for instance.
5. Two Personal Examples Explained
I always try to apply the recommendations above on my own images. Not telling a story was never an option for me; there's nothing more frustrating to me than having someone look at my image and feel zero connection with it at all.
Example 1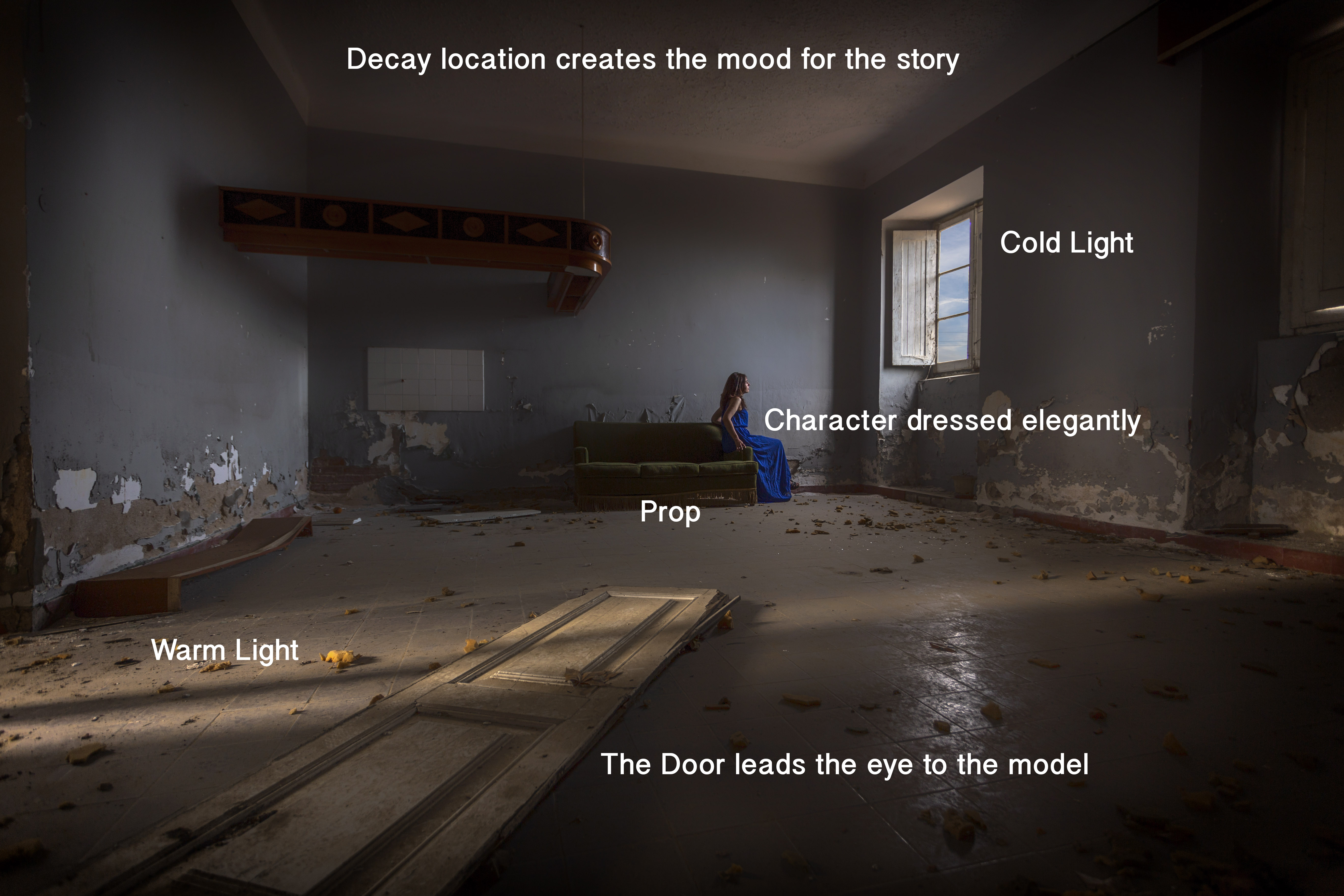 On "Dust Time," the idea was to create a metaphor about aging, a subject that concerns all of us. The scene takes place in a decaying location. The model is dressed elegantly to clash with this destroyed room.
I planned for the warm sunset light coming in from the left side, because that's where we always look first; it's opposite to a window with a colder mood. That warm light entering illuminates the foreground where a door on the floor is positioned to lead the eye to the foreground where the model is seated.
The sofa was included to help us connect with the scene. In that area the illumination is colder to help with the cinematic look and because of the opposite color scheme. It also helped to recreate the mood of an "aging and decaying process" in motion that will eventually catch the model.
I used a wide angle lens to capture all of these elements in a single frame for the viewer.
Example 2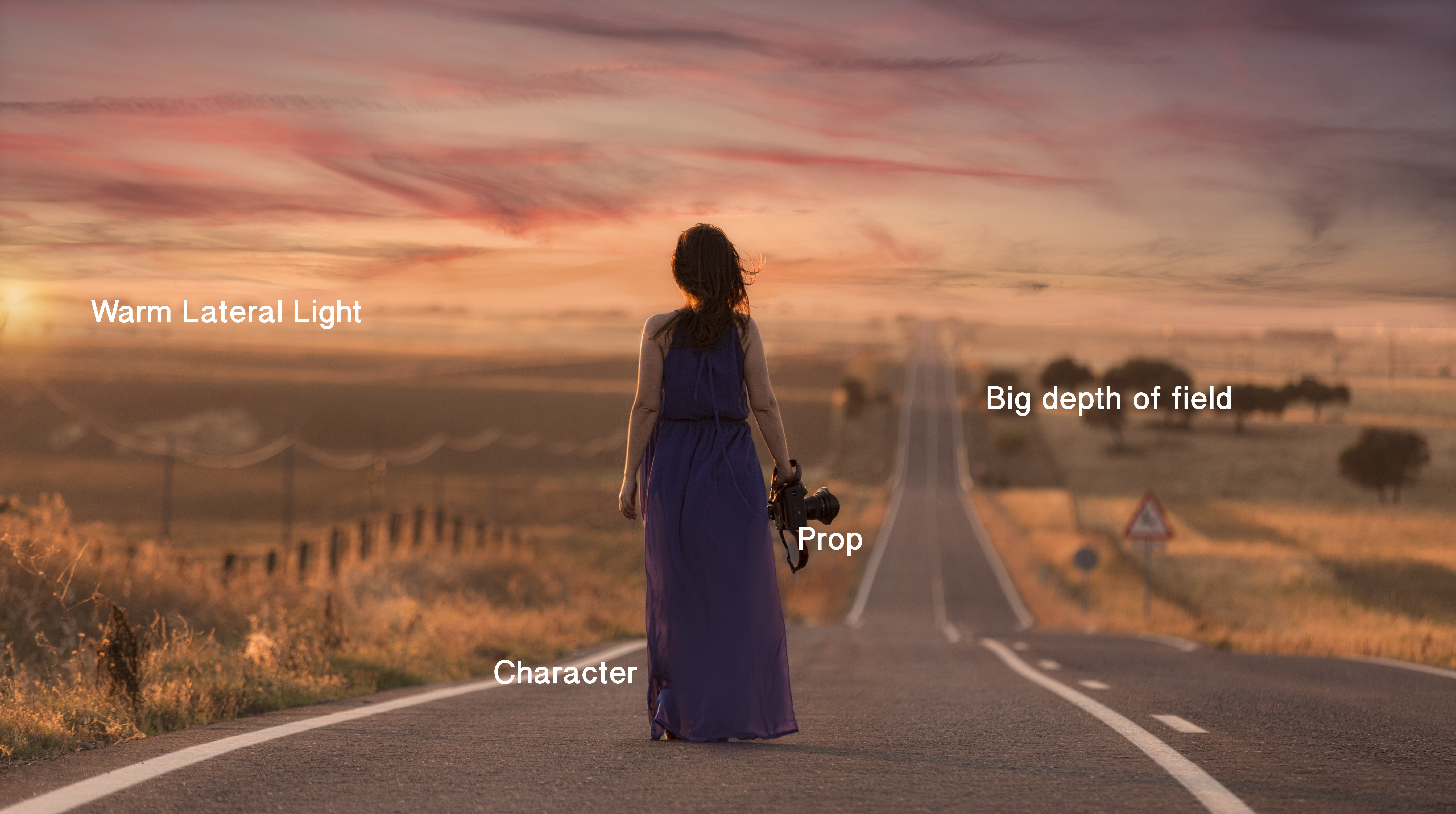 "Journey to Dreamland part 1 and 2" are a tribute to many important things in my life. My better half, my love for travel, and the importance of dreaming.
This image was captured on a very long road at sunset, to have the biggest depth of field and the warmest light possible.
We all can feel some kind of connection with this metaphor, because it encourages us to dream and think on how far we can go when we're up to it. Doing this set was an amazing highlight of my photographic life, because it was one of those moments I had dream of of many times, but I hadn't been able to find an appropriate location until I stumbled across it on a business trip.
I used a telephoto to compress the background and give the sharpest portion of the framing to the model and her prop.