Vincenzo Mazza was born in Velletri (Rome area), in 1974. A former computer graphic and photography trainer for the National Institute of Architecture and the Institute of photography in Rome, he has been working as a full-time landscape and nature photographer since 2011.
He's travelled to and photographed 15 different nations, and is currently running workshops and photo tours in Italy and Iceland.
He's been a Dreamerlandscape team member (the most important Italian landscape photographers group) since 2012. He's also a member of the Italian Nature Photographer Association (AFNI), and one of the founder of Focus in Iceland, a travel agency for which he's have been working since 2015 in Reykjavik where he now lives.
To see more of Vincenzo's work, follow him on 500px, visit his website, or give him a Like on Facebook.
---
Iceland is believed to be an extremely cold place; actually, Iceland is not really all that cold of a country, but it can be extremely windy! In fact, sometimes the wind gets to be so strong that they have to close the main road that is called the "Ring Road" as well.
The day I captured this picture I was traveling back to Reykjavik after several days working on a photography project in the beautiful Jokulsarlon glacial lagoon area. I was with my friend Leonardo. We started our trip very early in the morning, mostly because the road had just been re-opened after having been closed due to the strong winds.
Going through the town of Vik, the road stretches alongside a costal lagoon. As we were passing, the lagoon was being lashed by very strong gusts. The scenery was surreal: wind was pulverizing the water and creating a white/blue fog, while a pale winter sun was setting!
I have been traveling throughout Iceland for many years, so I know just how dangerous the wind can be. But in that moment the landscape was so unreal, and I was so captivated by it, that I made a very stupid mistake: I stopped the car along the road and instinctively opened the door.
Immediately the wind separated the door from my hand, opening it violently, breaking the hinge, and slamming the door against the car's bodywork!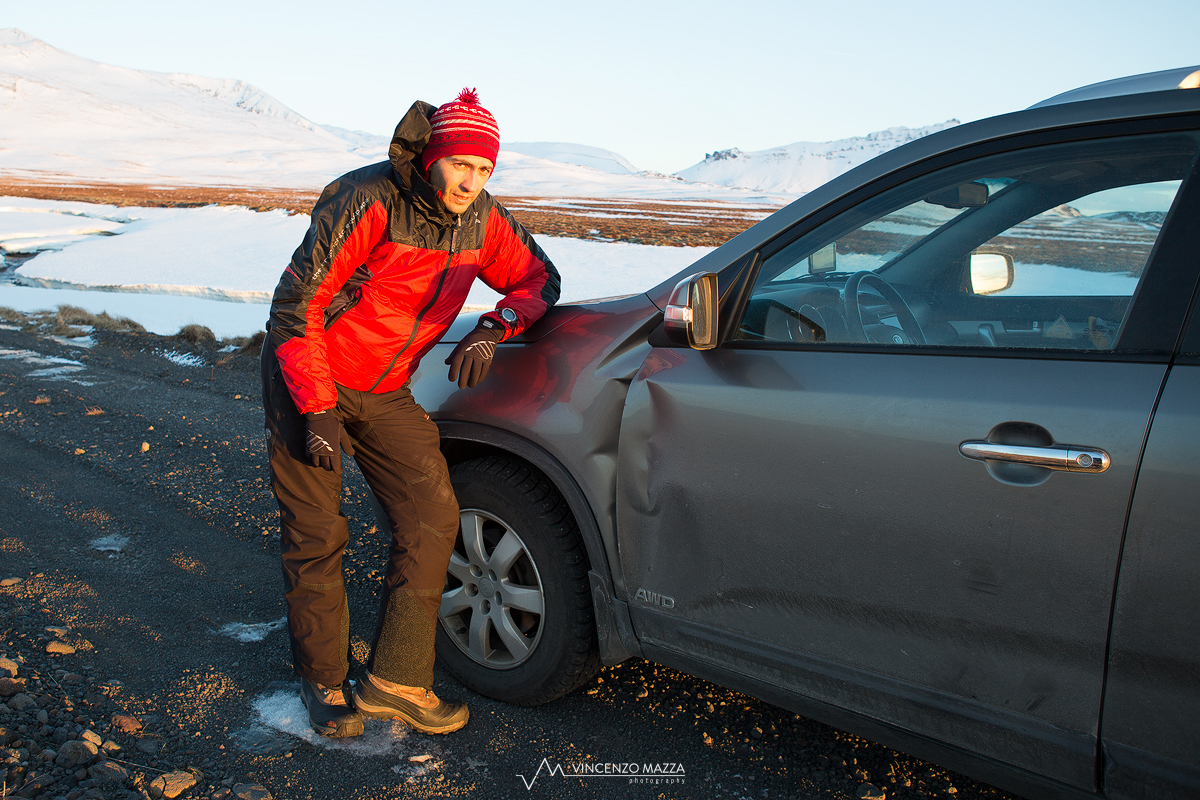 After the initial few seconds of shock, we used all our strength to, somehow, close the door (that was completely broken) and drive the car off the road and into a more secure place.
At that moment, my first thought was to fix the door and drive the car to Reykjavik as soon as possible. But, after several minutes of work on the broken hinge, I suddenly changed my mind. In an instant it was clear to me that going away without trying to photograph this amazing scene would have been even stupider than breaking the car door in the first place!
So I got out of the car with my camera, and what I saw was totally sublime to my eyes! A group of whooper swans was swimming in the lagoon, immersed in the water spray, moving against wind direction.
There was also a little group of greylag geese, coming one after the other, that were flying very low, close to the water, moving in the same direction of the swans. Because the wind was so strong they were flying more or less at the same speed the swans were swimming.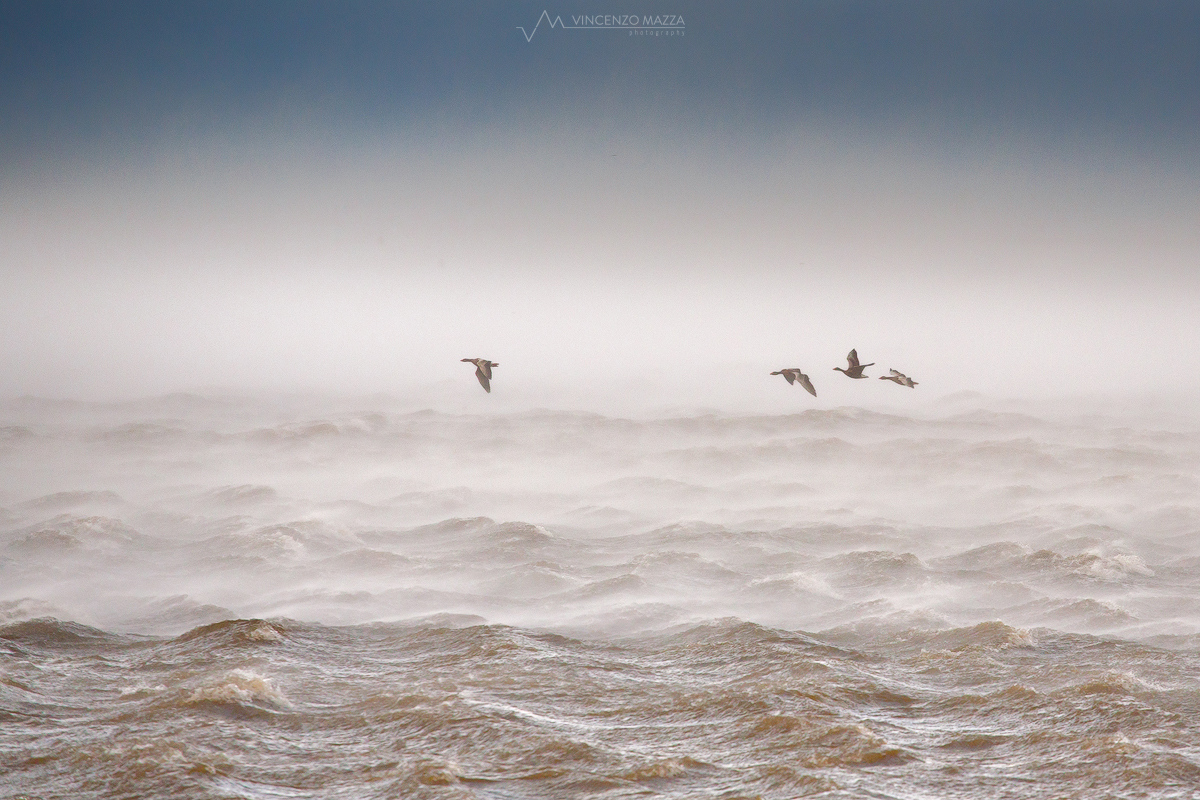 I tried to shoot many images, fighting against the strong gusts. I used very fast shutter speed settings on my camera (to avoid motion blur), trying also different compositions. I took close-up shoots of the animals as well as I tried to photograph the whole scene.
I remember myself lying on the ground (there was no way to stand still), trying to photograph from inside of a cloud of dust, sand, and every other sort of little debris you can imagine flying all around me!
Just to give you an idea of how strong this wind was, even some wire poles had been completely uprooted, and considering that those were Icelandic wire poles they were very resistant!
That night, as I reviewed the images in a Reykjavik hotel, one picture clearly stood apart from the others. In an almost perfect balanced composition, there were two groups of birds, in a strong, dramatic and surreal atmosphere! The final image:
Thinking afterward about what happened that day, I'm sure that coincidence and determination had been equally important.
If I hadn't damaged the car I wouldn't have had the opportunity to see that scene, because we would have gone away before the arrival of the birds. Without determination, on the other hand, we would have gone away as soon as possible, without even trying to capture the photograph.
My picture was, in the end, selected among the 100 winning images in the Wildlife Photographer of the Year 2015 contest—maybe the most important nature photography competition in the world. I'm really glad I broke that door…