Landscape and Cityscape photographer Tristan O'Tierney has made the 500px Popular page something of a home away from home. From car trails above the San Francisco fog to out-of-this-world sunsets, he's made a name for himself as one of the most talented shooters of the 5+ Million on 500px.
That's why we asked him, in November, if he would join our Editors' Choice program; it's why we were thrilled when he said yes; and it's why, today, you get to learn a bit about him and see his top 5 picks for yourself.
Scroll down and enjoy!
500PX: For you, what makes a great photo?
TRISTAN O'TIERNEY: One of the biggest struggles any artist faces is being original and interesting, over and over again. To me what makes a good photo is seeing something not only in a new way, but with an eye for the story and composition that makes you think or inspires you with wonder and awe.
We all get bored seeing the same scene with the same composition that's been done a thousand times before. That's what makes taking truly great photos of subjects like the Eiffel Tower or Golden Gate Bridge so challenging.
How did you get started with photography?
O'TIERNEY: My foray into photography started as an idle hobby. A friend of mine and I picked up a Canon 6D together, and we began going out capturing the beauty of San Francisco's many cityscapes. After a few months, the hobby grew into an obsession. After a year, the obsession grew into a new passion and direction in life.
Out of all your photos, which one is your favorite? Can you share the story behind this shot?
O'TIERNEY: I picked this photo, Road to the Heavens, because it speaks so much to everything I love about photography and how I became addicted to it.
O'TIERNEY (continued): Car trails are what got me obsessed with photography, and took it from being a hobby to an art form. The fog in the background is a big part of where I'm from, San Francisco.
Getting this shot was a perfect example of patience and waiting for the light. It took 4 hours until the conditions were just right, and a lot of trial and error to get the balance of light to match my vision. Timing the duration of a car driving by to get a single, exact trail was also necessary. I even stayed past closing time, risking getting a ticket!
Are there any photographers on 500px whose work you admire?
O'TIERNEY: I've been a long time fan of many talented people on 500px, and have them to thank for not only inspiring but teaching me.
Michael Shainblum has been a huge help. From his incredible compositions that inspire, to his helpful tutorials and workshops. I never would have mastered night photography as quickly if it weren't for his direct help.
Stian Klo takes some of the best landscape photos I've ever seen, and his work around Iceland makes me lust after going there to see this breathtaking scenes in person.
Ryan Dyar and Dylan Toh & Marianne Lim are a few others I look up to immensely. There are too many to name!
Tristan O'Tierney's Favorite 500px Photos
Now that you've gotten to know Tristan, his roots, his favorite photographers, and his favorite shot from his own portfolio, it's time to start handing out some kudos.
Below are Tristan's 5 favorite photos on 500px alongside an explanation of what makes each photo special to him. All of these received an Editors' Choice badge from him when he was handing them out in November.
Rivendell by Enrico Fossati
I picked this shot because it is nothing short of magical. The view, the angle of the distant light, the editing, the composition. I can't find a single flaw in the photo, and all it makes me want to do is be there because I can hardly believe something like this exists on earth and isn't pure fantasy.
Selective river by Thomas Bjørnstad
Monochrome is a true test of a photographer's skill. It forces the photo to stand not on the contents of the scene but on the story it creates. Selective color is an even bigger challenge, because it requires good editing and careful restraint.
This shot is exemplary for a variety of reasons — a captivating scene, a beautiful composition, and brilliant use of monochrome with selective coloring to draw the eye to just the right spots.
Hamnoy, Norway by inigo cia
I've always been a big fan of cityscapes at night, and while scenes like this are not uncommon around Norway, this shot is an exemplary example of combining night, nature, and man-made elements all in one. The processing on this is particularly well done too.
Mt.Bromo, Sunrise View by Felix Indarta
A lot of the shots from Mt Bromo follow a similar composition, but this shot stands out from the rest in a bold way. The scene by itself is just breathtaking. The way the fog meets up with the edge of this city is captivating.
This shot is a great example of how telephoto works just as well if not better for landscape scenes by isolating one specific and beautiful idea.
The short calm after stormy night by Dima Chatrov
It's a real challenge to capture a good photo of stars with light pollution, so to get a shot of the milky way rising over a glowing city is an incredible feat. I can only imagine being here in person and seeing such a sight. It would be once in a lifetime I bet.
I particularly liked the snowy mountain included in the composition to together viewer some context of the position and elevation.
---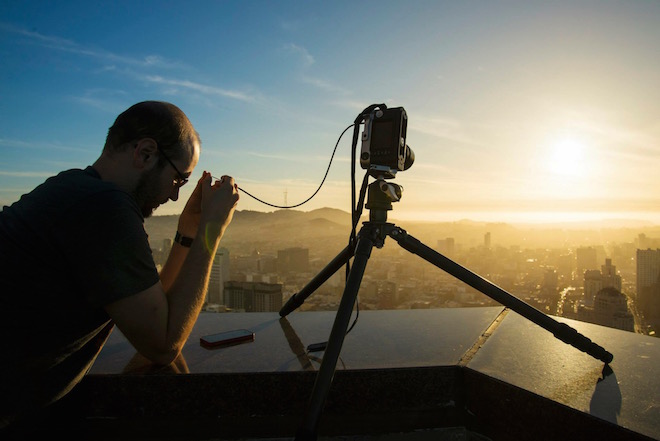 To follow along as Tristan creates more eye-popping photos or browse through some of the other photos he's favorited on 500px so far, be sure to check out his profile and don't forget to pay his website a visit.