432 Park Ave in New York is… hard to miss. Officially the tallest residential building in the Western Hemisphere, it re-defines the Midtown skyline and goads even the ultra-wealthy with 10 floors worth of penthouses, one of which has already reportedly sold for the happy sum of $95 Million.
It is, in short, a spectacular feat of engineering and the newest symbol of ultra-luxury in New York City.
So how do you properly advertise a symbol? How do you appropriately announce this building to potential buyers when it's already achieved mythical status? If you're NYC Agency DBOX, you hire ballerina, model, and 500px user Vik Tory and put on a jaw-dropping photo shoot that looks something like this:
We'll give you a second to pick your jaw up off the floor… go ahead… we'll wait.
Done? Great! As soon as we saw the first of the photos go up on Viktoria's account a couple of weeks ago, we knew we had to get the story behind these shots. Were they taken in the building? When were they captured? How were they captured? What sorts of challenges were involved? etc.
The questions just kept coming, so we reached out to Viktoria to see if she would give us a behind the scenes glimpse at how photos like this one came to be:
She, fortunately, said yes. The world-class dancer and model's answers to our questions came in yesterday, and are reprinted in full below. Enjoy this fascinating glimpse behind the curtain of one of the most spectacular photo shoots we've ever seen.
500PX: Could you first tell us a little bit about yourself? We have quite a few photographers who use 500px, but models are much more rare and you have such a wonderful following!
VIK TORY: I am originally from Austria. I worked there as a ballerina at Ballett St. Poelten. After a foot injury I decided to push myself even further, follow my dream and try to be a dancer in NYC. After my recovery, I applied for a dancing school (Steps On Broadway in NYC) and luckily I got accepted.
Within 2 weeks I got my paperwork done and left Austria. I arrived with 2 suitcases and hardly any money in Manhattan — all by myself, not knowing anyone or anything, without a phone, laptop, apartment, or anything. The first year was really hard, but step-by-step I tried to make it work as a dancer.
I never thought of myself as a model. I did not know that there is "another" industry besides the fashion model industry. I had a few shoots back in Austria for our dance company as well as a few projects, but it was more "for fun." Wolfgang Meyer, a photographer based in Austria, was the first person who encouraged me to take modeling to the next step.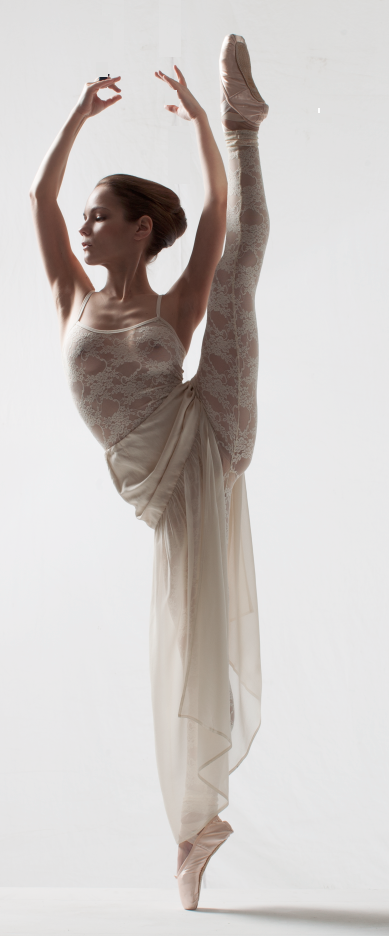 VIK (continued): I got approached by photographers and I saw postings by people looking for models who can dance. That is how it all started. In the beginning I was a dancer who did some photo shoots, but step-by-step I became a ballerina model.
I think because of the fact that I HAD to make it work (because there was just nobody that could really help me — in case it does not work out ) and I did not want to go back to Europe as a failure, I worked very hard. I was always a very ambitious person and perfectionist! It was very important to me to improve my skills and get better in what I do, since I never "learned" to be a model! I wanted to know more about lighting, which poses look better, know more about lines, shapes, forms, angles, etc. I also had to learn how the business works!
I have to say, I think I had good luck as well, because I worked with some amazing photographers and I am happy they saw "something" in me at a very early stage, and gave me a chance.
Tell us about this photo shoot. Who was it for? What was the purpose? And how did you come to be a part of it?
VIK: DBOX, an amazing agency based in NYC, was looking for a model/person who could portray a statue that then started moving. It was supposed to be a 2-second part for a video, which was also done for the 432 Park Avenue project — the highest apartment building in the western hemisphere, worth 3.1 Billion as seen on NY Times and other well-respected newspapers all over the world.
When I auditioned for the part, Matthew Bannister, CEO and Founder of DBOX who was also the photographer and the creative producer for the project, liked the way I was dancing. Soon after, he told me that they chose me for the particular part in the video, as well as other parts in the video. Then they told me that they decided to change the whole concept for the book that was planned for the 432 Park Avenue project as well!
Since they had never worked with a dancer (it was initially supposed to be a fashion editorial), they asked me if I could help them with regards to dance poses, clothes, titles, etc. I was more than happy and honored to do so. So Matthew Bannister and I worked together for a month prior, emailing each other pose ideas to prepare for the shoot.
Can you give us a little behind the scenes glimpse at what a photo shoot like this involves? How long were you there? How many people did you work with? and What was it like!?
VIK: The shoot was done in late 2013. The building was not even built back then, but of course the commercial and promotion needed to be done on time, so all the pictures were taken in front of a green screen in a huge studio in Brooklyn.
They built a window frame to duplicate one apartment of the building. I was a part of both projects: the video production and the book production. I know that the video production involved months and months of pre-work, so I will just go more into details about the book project since the video is just released to potential buyers of the luxury apartment!
There was a huge team involved: make-up, hair, stylists, producer, creative producer, photographers, post-production… etc. The whole project was lead by DBOX. Matthew Bannister and Keith Bomely were the photographers. Matthew Bannister was also the creative producer and my contact person for the whole preparation time and beyond. The photo shoot took 2 full days for me, but since the book is huge the whole shoot for the book took a week, up to 14 hours a day.
VIK (continued): To be honest, when I got booked for the shoot I was very new to the industry, and since it was such a huge project they did not tell me a lot of details. So I just did what I always did- and still do: I give my best, I share my ideas, I love to get involved, be creative, push myself, try new things… but of course the final decision is done by the producer/photographer or the team.
I had a lot of say regarding the dance poses, since we wanted to make sure that we also take in consideration the ballet technique is done correctly. The pictures were taken in front of a green screen, but the window frame they built was very narrow, so it was quite tricky to do all of the dance poses on a very limited surface. Additionally we had to take care of the flowing clothes, fan, lighting, etc.
Where there any specific challenges you and the photographers faced when planning and executing this shoot? Have any interesting/fun/strange stories come out of the shoot?
VIK: Well I am sure there were definitely a lot of challenges involved for everybody. For me, posing on a tiny surface was definitely not easy, and because they needed the same pose again and again it definitely challenged my ability as a dancer and my balance. As a dancer you always try to show your best, so I came up with some "crazy" poses at the beginning, but they explained that at the end we still have to promote the building and not me 🙂
After the shoot was done, Matthew Bannister invited me to the DBOX offices. He wanted me to come in to take a look at the pictures and post-production for my approval and thoughts, especially regarding the dance technique.
At the time, I still had no idea that there were hundreds of people working on pictures of me all day long. I will never forget the moment when I walked into the office, I was really impressed. I also remember that they had chosen a picture which they had worked on for weeks. When they showed it to me I had to confess that I did not like it that much, because I was not satisfied with my ballet technique on that particular image. I was glad that they valued my opinion enough to scrap it and never used this picture!
I enjoyed the shoot and collaboration with them a lot and I was happy to see the final product. I did not know until the last minute that I got a 10-page spread in the book plus the cover. After they sent the final edition to Europe for print, I was very honored to get one of the books right away, because the book is not for sale and each book is worth more than $100 in product costs alone.
After the project was finished I was invited to the after party. When I walked in to the office again, all of my images where printed life-size and bigger. That was one of the moments when I was truly speechless and grateful for such an amazing opportunity!
I was super excited to see the final product, but since it was still top secret I was not allowed to show or share the book or pictures with anyone. That part was really tough!
After you shared the photo above, it quickly went to a pulse of 99.9, becoming one of the most popular photos on 500px. In fact, when we shared it on our Facebook Page, it received almost 9,000 likes! How has the image's popularity impacted you?
VIK: When I finally got the permission to publish the pictures in early 2015, I had no idea that it would get so much attention. I posted a few of the pictures on 500px. I really like 500px, because the quality of the pictures featured and posted there is one of a kind. Especially nowadays where you see so many pictures everyday on social media and on the web, I enjoy the high standard of 500px.
The picture that got 99.9% was the last one of the series I posted, since it was my least favorite one of the whole series, because it was quiet a simple pose. You can understand, then, that I was surprised that it took off the way it did. I am a little overwhelmed and thankful to get some recognition for all the hard work we put into the project.
Finally, as an incredibly successful model, do you have any tips for the photographers on 500px?
VIK: My advice would be: Follow your passion. Work hard, be reliable and do not give up!
A huge thank you goes out to Vik Tory for answering our questions and telling this story, and also to DBOX for putting on this magnificent shoot and allowing Vik to share it with our community!
You can find out more about DBOX by clicking here. And if you'd like to see more of Vik Tory's work or hire her for your next epic shoot, visit her 500px account and website, give her a like on Facebook, check out her Tumblr and Instagram, or shoot her an email at viktory@viktoriamodel.com.