This one's not for the faint of heart, folks. When we stumbled upon this dramatic photo of a river standoff between over a hundred crocodiles and a herd of hippos, we just had to get the full story.
We turned to Marc Mol, the wildlife photographer who captured this epic scene. Turns out—there's more to the tale.
Another photo reveals that these crocodiles were actually feasting on a lone dead hippo. Below, Marc recounts the story behind his action-packed shot.
Location: South Luangwa National Park in Zambia
Time of day: November 5, 2011 at 7 a.m.
Gear: Nikon D700 and 70-200 f/2.8 VRII
EXIF Settings: 1/400s | f/5.6 | ISO1250 @ 80mm
"These photos were taken from a Microlight aircraft in early November 2011, above the Luangwa River. This flight was part of a planned four-week trip to South Luangwa National Park to specifically cover this beautiful river from up in the air, as the long dry season lingered on. It was early in the morning when my pilot John Coppinger and I spotted the large mass of crocodiles, feasting on a dead hippo. From above, we could see a large gathering of crocs, so John took it down for a closer look, banking the aircraft over in a low swoop."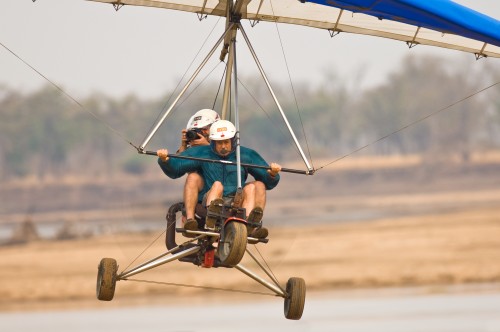 Above: PHOTOGRAPHER MARC MOL AND PILOT JOHN COPPINGER
"This shot was obviously not planned. My pilot and I were fortunate enough to spot the mayhem from our aircraft."
"As you can see, we have approximately more than 140 crocodiles feasting on a dead hippo! As the relentless hot and dry season lingered on, this hippo most likely died from anthrax. Anthrax lies dormant for many years, but can get stirred up if the dry season is an extended one. It's a thrilling and amazing experience—one that I'll never forget! I knew that this scene I shot was something special, and if it was going to happen anywhere it would be in the South Luangwa. This part of the world is blessed with more hippos and crocs than anywhere else in the world!"
Interested in meeting the photographer behind these images? Get to know Marc in our exclusive Q&A below!
Hi Marc! Tell us more about yourself.
MARC MOL: My wife and I currently reside in Basel, Switzerland. We plan to return to our home nation Australia within a year or two. I've been a photographer for over 40 years now. I started photographing wildlife during my first visit to Africa in 1983.
As a wildlife photographer, how often do you travel?
MARC: I'd spend everyday in East and then Southern Africa if it was possible. But this year, I'll be doing four trips to both Tanzania and Zambia—each trip lasts around four weeks.
What are your favorite subjects to shoot? We notice you photograph a lot of cheetahs and leopards.
MARC: I do have a passion for the big cats of Africa. My favorite is the leopard. To me, leopards represent the pinnacle of what a big cat is. They can adapt to any environment, and their prey can range from wildebeest to small mice and birds. Their secretive nature make them a challenge that I relish. I love to capture all forms of nature photography that tell a story. I tend to capture more of my subjects in their environment.
What can we find in your camera bag?
MARC: I shoot Nikon DSLR. I currently use a D4, D3s & D700. I use Nikkor lenses, ranging from the 14-24 f/2.8 to the 500 f/4 VR.
Where is the best location in the world to take wildlife photos?
MARC: My number one location is the South Luangwa National Park in Zambia, where I took the photos of the crocodiles and the hippos. The concentration of animals around the Luangwa River — with its oxbow lagoons and open flood plains — is among the most intense in Africa. The opportunity for night game drives and true walking safaris make this location even more special.
Follow Marc Mol on 500px to see more of his wildlife images.
Want to hang his wildlife photos on your wall? Buy prints from his store on 500pxArt.
You can also check him out on Smugmug.
Got a a question for Marc, or any of your own crazy wildlife photos or stories to share? We want to hear all about it! Comment below, and share a wild story!