Have you ever wondered what a day in the life of a professional photographer is like? Wonder no more! Every week, we ask a top-notch 500px photographer to document a day at work — be that in the field or in the studio. From acclaimed wedding photographers to incredible landscape shooters, they offer you an exclusive, behind-the-scenes look at their shooting schedule and techniques in the field.
This week, we're headed to Portland and Seattle with talented photographer Tom Lowe, whose latest portrait project — dubbed "The Crew, Intimate Portraits From The Credit List" — sheds light on the women and men behind the commercials we see day-in and day-out.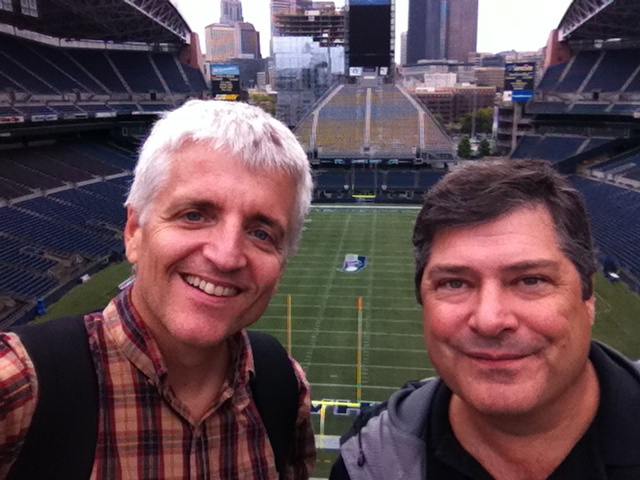 Tom is an award-winning photographer, market-savvy TV Commercial Producer, and current Artist in Residence for the National Park Service at Mojave National Preserve where his residency theme — titled "Mohave Moonlight" — has earned him awards and accolades from several online magazines and gallery curators.
Those images are quite different from the portrait work he's doing for "The Crew," but no less impressive:
A large scale portrait project like this makes for some very long days, and the day that Tom describes below is a perfect example. Join Tom now as he walks you through a three-portrait day that included a nasty cut on his head that bled profusely, pouring rain, teetering on top of a ladder on a hill, and stand-still traffic in Seattle to top it all off.
---
Last year I started a portrait series called "The Crew, Intimate Portraits From The Credit List," and have captured close to 60 portraits to date. My goal is to get to one-hundred by the end of 2015 and get published. Many of the people I have captured are close friends, some are work associates and others are referrals from my colleagues.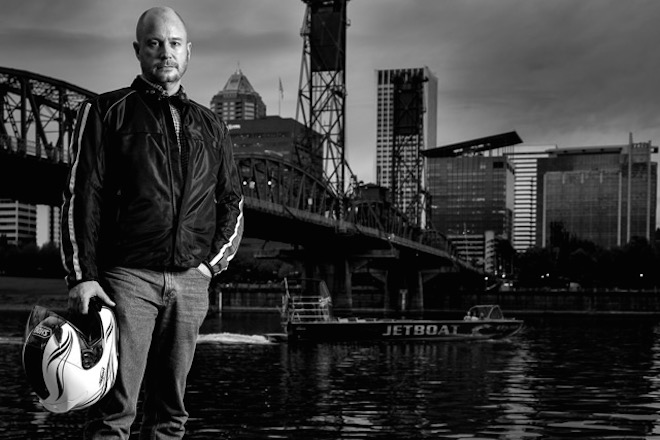 Most of the portraits are captured in one afternoon or early morning and are usually done in an hour or less. Some I've returned to three and four times to capture something unique and interesting. I thank each and every one of them for their time and patience.
This day was an adventure to Portland and Seattle.
24 Hours with Tom Lowe
4 A.M. Wake-up for the drive from Portland to Seattle, I had arrived the night before to capture my old roommate Craig Flom (photo above) who is a TV News Editor. We had a very successful session and then went out for a few beers before passing out. No time for a shower… dress and pack for the road then tiptoe to the kitchen trying not to wake anyone in the house.
4:15 A.M. Quick bowl of cereal. Load the charging batteries plugged into the wall into my camera bag.
4:30 A.M. Craig wakes up anyway says goodbye as I finish rinsing the bowl in the sink. I clamber for the rental car as we say our goodbyes then he closes the front door behind me.
4:31 A.M. The rental car is parked on a steep incline in his driveway. I open the trunk to put my suit bag inside. As I lean in the trunk lid closes swiftly and a hard wire on the latch catches me in the top of my head. BAM! I rub it and jump around a bit. The pain is sharp. I reopen the trunk to put my camera bag inside and feel something trickling down my face. Then see blood splashing on the pavement in the light from the front porch.
4:32 A.M. I realize this wound is worse than I thought and need help. I make sure the camera is securely in the trunk and lock the car again.
4:33 A.M. I ring Craig's doorbell and step off his porch because the blood is flowing pretty fast now. He answers and I say, "I've done something really stupid…" He looks at me in horror and goes to get some towels and ice.
4:50 A.M. The bleeding has stopped but I've soaked two towels with blood. It's not a concussion but a laceration from the wire in the latch. I keep pressure on the wound. Craig washes his driveway and porch off with a hose.
5:00 A.M. I lean over a bathtub and wash the blood out of my hair. My shirt is trashed. I dry off the wound very softly.
5:10 A.M. Craig gives me two new towels and a ziplock bag of ice. He asks if I should go to the urgent care for stitches. I explain that I've made arrangements to meet a cameraman for the Seattle Seahawks at 10a at CenturyLink Field — their stadium. He's arranged passes for me and there's no way I can miss it. We wrap the ice in one of the towels.
5:30 A.M. I pop a couple of aspirin say goodbye again and press the ice into the wound. Craig reluctantly closes the door behind me. I get into my car and pull the towel away to see if I'm still bleeding — I am, but it's slowed to something like a bad paper cut.
6:00 A.M. I reach Interstate 15 North and now have 175 miles to cover through rush hour traffic — driving one handed the whole way. If the rumors hold true about rush hour on a Thursday, it'll be tight to make the 10 A.M. meeting at the stadium.
7:00 A.M. The ice is melting and I'm on my second towel but the bleeding has stopped — yay! Sunrise is beautiful.
9:30 A.M. Rush hour wasn't so bad (compared to Los Angeles). I pull into a local coffee shop (not Starbucks) to change my shirt and look at myself in the mirror. I throw the towels away.
9:45 A.M. I text Steve Schrammeck, the cameraman, to confirm I am in Seattle and just down the street from the stadium.
10:00 A.M. He meets me in a parking lot and I follow him to the stadium. It begins to rain.
10:15 A.M. We park our cars. He's brought his video camera as a prop for the session. I open the trunk and ask Steve to hold it open for me. I don't tell him what happened in the pre-dawn hours. The rain turns to a drizzle. I grab my gear and we make our way out of the parking lot.
10:30 A.M. Steve and I talk as we walk around the front of the stadium. He too is an old roommate. We arrive at one of the security gates. He explains that we have press passes waiting for us inside. It's a game day (pre-season against the Raiders) so there is a ton of activity around the whole place. The guard gets permission to let us enter over his walkie-talkie.
10:45 A.M. We meet Steve's contact and get our passes. He escorts us to the top of the stadium. We are standing under the 12th man perch. He says goodbye and leaves us alone.
11:00 A.M. I've set up a single Einstein 640 strobe on a stand with an umbrella. I did not know where we'd be shooting so I did not bring a tripod. It begins to pour rain. We hide under an awning.
11:15 A.M. The rain abates and we step out to the seats. I leave the strobe under the awning. We capture a handful of test shots. It's a grand stadium and from our position, downtown Seattle looms in the background. The rain returns and we run for cover.
11:30 A.M. The rain turns to a drizzle and we step out to the seats again. I take the strobe with me this time. I've set it so it matches the luminance of the sky. I don't want it to overpower him. It's more of a fill light for this portrait. I capture two or three frames that I think work.
11:40 A.M We pack up to leave the stadium. I text my next appointment to confirm our session.
12:00 P.M. Steve and I drop our gear in our respective cars and walk to lunch.
1:15 P.M. Lunch is great, we share some good laughs. Steve and I say our goodbyes. I pop more aspirin.
1:30 P.M. I arrive a Rick Barnes' house for another session. Rick is a freelance cameraman, director, producer and writer. I have only known Rick through mutual friends and have never been to his house.
1:45 P.M. Rick shows me his office in the basement. It is a perfect setting for this multi-talented artist. Editing gear lines the walls, a guitar to relieve his stress and debris from his projects is scattered in every corner. The room has one window and the soft Seattle light streams through it. I augment it with an Einstein strobe and place another strobe above my lens in the doorway as a fill. I capture about 50 versions but it is the last few that I really like.
2:30 P.M. I have my gear packed and ready to go. Rick graciously offers water. He too is never told about my early morning.
2:45 P.M. I am on the way for one more session.
4:00 P.M. I arrive at the home of Jim Sander. He is a writer, painter and sound technician. He has written at least two novels and continues to try to get them published. As part of those efforts he is painting some of the characters in those stories as possible book covers. Jim is a good friend of Rick's and I have never been to his house. He shows me his studio, a self-built room made out of wood and parts found on Craig's list. Resourceful to say the least, I ask if we can pay homage to Robert Frank's famous self-portrait. Jim agrees.
4:15 P.M. Jim's studio sits on a steep hill. I ask him if he has a ladder. He does and we set it up on a terrace about halfway down the hill. I ask him to sit in the open doorway while I climb the ladder to the second highest wrung. I am about twelve feet above the terrace with another fifteen feet of slope below it. I don't dare look down for fear I'll lose my balance. The light is beautiful. There is no need for a strobe. The rain clouds act as a huge soft box and I ask Jim to lean back in his chair just like Frank did all those years ago. It's perfect!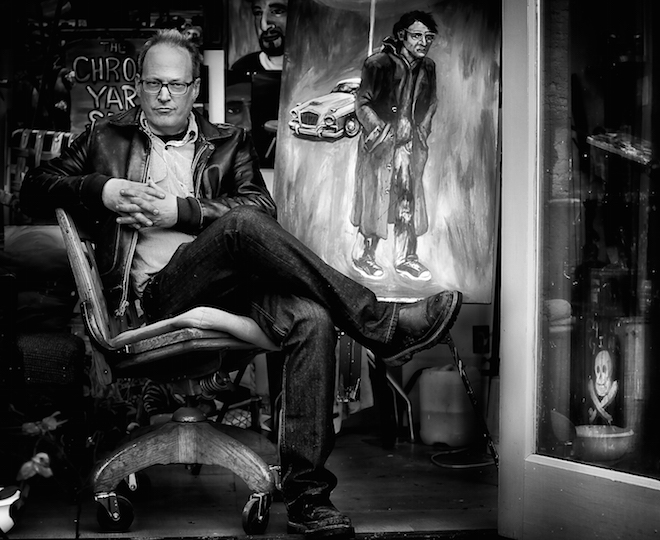 4:20 P.M. He asks me to step off the ladder because it's making him nervous. I comply and try a few other poses but none compare to our first.
4:45 P.M. I am on my way to the airport for a 7:30 P.M. flight back to Los Angeles.
5:00 P.M. Trying to make my way to the freeway… Seattle is in gridlock. Steve calls to warn me there has been a terrible accident on the freeway and they've closed the southbound lanes. As a result, people in the city are losing their minds. U-turns abound and few have patience for anyone trying to change lanes. Traffic mayhem.
5:10 P.M. Rick texts me to let me know about the accident. I call Alaska Airlines to check on later flights — they are all sold out.
5:30 P.M. Still sitting in downtown Seattle traffic.
6:00 P.M. I make it to the freeway and it's moving!
6:30 P.M. Drop the rental car. Catch bus to terminal.
6:45 P.M. Arrive terminal, check in. Pay extra weight fee for equipment bag.
7:00 P.M. At the gate — pop more aspirin.
7:45 P.M. Board flight (slightly delayed). Immediately fall asleep.
11:00 P.M. Kiss my wife, and collapse into our bed.
---
We hope this glimpse into Tom's day-to-day shooting photos of "The Crew" gives you an idea of what a portrait project like this takes, and the "can't give up, won't give up" spirit Tom puts into his work.
Here are a few more of the killer portraits Tom's captured for this particular project and uploaded to his 500px profile:
To see more of Tom's work, pay his website a visit, check out his blog, and definitely give him a follow on Twitter, Facebook, and 500px. And if you have any questions for him, drop them in the comments down below or on his profile!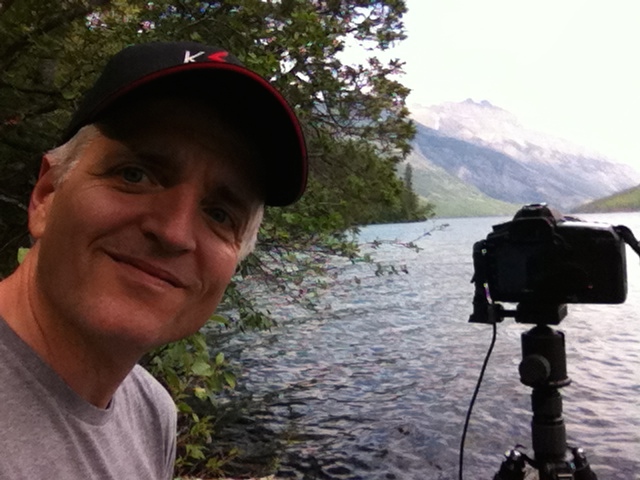 Don't forget to check back in next week for another installment of A Day in the Life featuring another awesome 500px photographer.