Elia Locardi is an internationally-recognized professional travel photographer, Fujifilm Global Ambassador and X-Photographer, writer, public speaker, and educator who spends his life shooting some of the most beautiful locations in the world.
Location independent since March of 2012, he and his wife Naomi live a 100% mobile lifestyle, perpetually traveling from country to country, continuously circling the globe. Since he began traveling full-time in 2009, he has visited more than 50 countries and flown over one million miles.
Throughout the journey, he shares the Art of Photography on his popular blog, teaches post-processing workshops worldwide, speaks at major international photography conventions, and is proud to be one of the founders and leaders of Dream Photo Tours.
---
When I first started traveling as a photographer in 2010 I knew that photography was going to be a great way for me to see the world, though at the time, I had no idea how my experiences over the next few years would profoundly change my life. It wasn't long before I knew beyond a shadow of a doubt that I wanted to travel the world full-time, and spend as much time exploring and photographing this beautiful planet as I possibly could.
For the past three years, my wife Naomi and I have been 100% Location Independent — a more elegant, parent-friendly way of saying "homeless." In 2012, we sold nearly all of our possessions, consolidated what remained into a 5×5-foot storage locker, and set out to photograph the world full-time. With various projects we average around 180,000 miles of one way air travel a year while living out of hotels and rented apartments, existing solely on the income surrounding my photography, workshops, and photo tours.
Over the course of our travels to over 50 different countries, there are a handful of locations that we come back to again and again. The list below isn't complete—no list ever is—but in my opinion these are 20 locations that every photographer and photo enthusiast should put high on the bucket list and try to visit within their lifetime.
1. Rome, Italy
Rome is one of my all-time favorite photography destinations on the planet. The Eternal City is not only a delight for the camera, but it's also packed full of fascinating historical architecture and cultural heritage that make it the perfect place for photographers and travelers alike. With so many great spots to photograph, I feel like I could spend years in Rome and still barely scratch the surface of its potential. It's also the starting point of our Italy Dream Photo Tour.
2. Santorini, Greece
Santorini is an island in the South Aegean Sea that is often considered to be one of the most romantic places in the world. The town of Oia, pictured below, boasts one of the most beautiful sunsets on the planet. Late each afternoon, hundreds of people gather to watch the spectacle of light as the sun dips below the watery horizon. Once it sets, the entire crowd explodes in cheers and applause.
There's just something magical about the quality of light in Santorini. It's difficult to explain precisely, but it is the kind of light that artists dream of capturing. You'll just have to see it for yourself.
3. Tekapo, New Zealand
Ever since the first Lord of the Rings movie, New Zealand has exploded in popularity with the travel community. My advice for photographers who visit Middle Earth is to plan as much time there as possible. The islands may look small on a map but the more you drive and explore, the more you'll begin to realize the enormous wealth of inspiration and photography opportunities at your fingertips.
If you're into star gazing and want to photograph the Milky Way, head towards Lake Tekapo. The entire area is protected as part of the dark sky reserve. On the shore of the lake near the little town, you'll find the Church of the Good Shepherd, so perfectly positioned that you'll swear it was put there just for photographers.
4. Angkor Wat, Cambodia
As far as famous sunrise spots go, the reflection of Angkor Wat definitely tops my all-time favorites. When colors start to dance above the ancient temple spires, the fatigue from a severely early wake-up call is replaced by pure fascination and delight.
After you have this one in the bag, make sure to explore and photograph the other amazing temples around the Angkor Temple Complex and Siem Reap. I've been leading philanthropic photo tours to Cambodia since 2012 and my favorite time to visit is between November and February, when you'll experience cooler than usual temperatures. Just make sure you get to the temples early so you can experience them on your own.
5. Petra, Jordan
Watching the adventures of Indiana Jones as a kid, I was fascinated with the ancient architectural site of Petra, Jordan. There are few places in the world that are this inspiring to experience with your own eyes. Even more amazing is the fact that they light up the Treasury a few times a week for an event called "Petra by Night."
Make sure you don't forget your tripod — you'll want it with you to capture night photography of this truly stunning event.
6. Tuscany, Italy
I know that I've already mentioned one location in Italy, but I just can't help myself. I've never found another country that has so many amazing places to visit and photograph. Tuscany is no exception. In fact, I would venture to say that it's one of the most beautiful landscapes in the world. Although, to be honest, that could just be all of the delicious food and red wine talking.
Of course, Tuscany is also a big stop on our Italy Photo Tour.
7. Bromo Tengger Semeru National Park, Indonesia
One my biggest dreams is to leave Earth and explore far and distant worlds, but I'm fairly certain that it's not going to happen in my lifetime. Thankfully, there are places on our planet that feel so foreign and so alien that it feels like you're standing on another planet.
In the summertime, this caldera fills with swirling ground fog and if you get to the viewpoint early enough, you can be all alone under the stars in the incredible landscape.
8. Marina Bay, Singapore
I think it's about time I introduce some modern architecture into the mix here, and Singapore is the perfect place to start!
Personally, I love shooting Singapore and you'll find that most of the great photography opportunities are concentrated around Marina Bay and the small Central Business District. At night, this city really comes alive with beautiful lights and a regularly scheduled laser light show. I've photographed the spectacle from many different angles, but my favorite vantage point is definitely from the area around the Merlion looking towards Marina Bay Sands.
9. Mt Fuji, Japan
Each season in Japan is distinctly different, and photographically there are countless options to choose from, but I'd have to say that I love visiting in Spring the most. This is because the blooming cherry blossoms are not only a phenomenal photography subject, but they've also been cherished by the Japanese for hundreds of years.
In their country, the cherry blossoms represent the fragility of life and serve as a reminder that life can be overwhelmingly beautiful, but can also be tragically short. Since the blooming period can only last a few days, this makes capturing them in the peak of their bloom even more special. It's a time of great celebration for the Japanese, which makes being there during this time period a wonderful life experience.
10. Hallstatt, Austria
Often called the pearl of Austria, the words "picture perfect" certainly come to mind when I think of Hallstatt. It's rare to find a place that is this easy to photograph in a town that is this wonderful to spend time in as well. Photographically, there's really no wrong answer here, and no matter what time of day you visit, this little village is exquisite.
11. Dubai, UAE
When I first visited Dubai a few years ago, I didn't fully appreciate the city until I looked at it through the lens. Landscape photographers beware, aside from the surrounding desert, you're not going to find very many natural subjects here. Architectural photographers, on the other hand, will see Dubai as a compositional playground with nearly endless possibilities to find unique architecture and vertigo inducing views to capture.
12. Jokulsarlon, Southern Iceland
As a photographer, one of the best and worst decisions of my life was to visit Iceland. It was the best decision because it's by far the most epic location in the world for landscape photography. However, it was also one of the worst decisions because now I'm hopelessly addicted to visiting over and over again!
No matter how many times I travel there, I can never seem to get enough. Even now I'm already thinking about the upcoming Photo Tour that I'm leading there in October.
13. Meteora, Greece
Meteora translates into "suspended in the air," which is a fitting name for an area that houses six ancient monasteries perched atop of giant sandstone spires. Through the frame, this entire area looks like it's straight out of a fairy tale and at both sunrise and sunset, the light can be simply spectacular.
Meteora will always be important for me because it was one of the first places I visited when I started my career as a travel photographer in 2010. Interestingly enough, this was also the first photo I ever posted to 500px!
14. Cinque Terre, Italy
No list of the world's top photography spots would be complete without the seaside villages of Le Cinque Terre (The Five Lands). This area is not only one of the most beautiful regions of Italy, but I'd venture to say, one of the best spots in the world to photograph. I know this is the third time I've mentioned Italy in this article, but I really can't help it when it comes to a place as stunning as this. It's also one of the crowning jewels on our Italy Photo Tour.
This photo of Vernazza — one of the five villages that make up the region of Cinque Terre — was taken during a beautiful sunset. If you visit here, be sure to give yourself at least a few days to explore and photograph this region because, along with Vernazza, Manarola, Riomaggiore, Corniglia, and Monterosso should not be missed.
15. Valensole Plateau, France
The lavender fields of Southern France should be on every photographer's bucket list. Particularly near Valensole, there are dozens of fields that are oriented in every direction possible. This means the entire region is great for both sunrise and sunset photography, allowing you to capture the first and last light as it illuminates the perfectly manicured rows of flowers. Just watch out for angry bees… I learned that lesson the hard way. 😉
16. Bagan, Myanmar
The temples, or stupas, of Bagan in Myanmar are an incredible location for photography. If you get to shoot on a day when the balloons are flying, and position yourself perfectly, you can photograph the stupas with balloons overhead as the golden light of dawn streams down. Better yet, if your budget will allow, take the balloon ride yourself and photograph the stupas and other balloons as you fly over these ancient structures.
To top it off, Myanmar is excellent for portrait photography of the locals and you'll often find monks around the temples willing to strike a pose for you.
17. Paris, France
After Rome, Paris is definitely one of my favorite cities for photography. The City of Lights offers a wealth of history, countless museums, excellent food and a ton of great locations for photography. The Eiffel Tower is certainly a must for photographers, and you can find many great vantage points to capture this iconic structure. You should be aware though, that photographs of the light show in the evening can not be licensed commercially.
18. Kyoto, Japan
Kyoto may very well be my favorite place in Japan that I've visited so far. Much of the history of Japan is preserved here, and so many of the locations have been the same for centuries. Walking through the streets near the Yasaka pagoda you'll see couples hand in hand, dressed in traditional garb, and you'll instantly be transported back in time.
19. Stockholm Underground, Sweden
Stockholm has quite a few great areas for photography, but you may be surprised to hear that one of the best is actually under ground. A few years ago I started photographing a series of underground stations, but this Solna Centrum in Stockholm was the first and sparked the inspiration for the rest of the series.
The blue line of Stockholm's metro houses a series of art stations, each created by a different artist, and each with a completely different feeling. The red colored, carved stone of the ceiling in this photograph has been described by many as feeling like "the entrance to hell." My thought, though is that since the escalators lead up, it would have to be the exit. 😉
20. Venice, Italy
What can I say, I'm hopelessly addicted to Italy. It's not my fault that the country has so many amazing photography destinations. It just didn't feel right to not include Venice, one of the most important historical cities in the world, on this list. Countless artists throughout history have been drawn to capture and represent the uniqueness of this ancient city surrounded by water. It has so much character, texture, and so many locations to shoot that's it's a true photographer's playground.
21. Lake Bled, Slovenia
Some places in the world look like they're straight out of a fairytale and Lake Bled in Slovenia is certainly one of them. In this shot I unfortunately was a bit too early for the first snow, but on the plus side, I ended up catching the tail end of the fall colors. Bled is really one of those places that can look stunningly different in each of the four seasons.
Experiencing beautiful destinations for the first time is an incredible feeling that can only be matched by seeing it again though someone else's eyes. It's a way to relive — if only in a moment — some of the same sense of awe and inspiration that flooded the senses on the very first visit. That's one of the things I love most about leading photographic tours all over the world. I get to share these moments and places with so many amazing people from all walks of life; People that are drawn together by the same common interests of both travel and photography.
I have been leading photo tours since 2012, and ever since then, I've been striving to find the perfect balance between world-class photography locations and life-changing experiences. Founding Dream Photo Tours is the result of many years of travel, exploration, planning, and execution of those two defining goals.
Join me on a Dream Photo Tour and begin ticking some of these places off of the bucket list, all while learning how to capture exceptionally beautiful landscape and travel photography yourself.
To learn more or register for an adventure of a lifetime, visit The Dream Photo Tours website.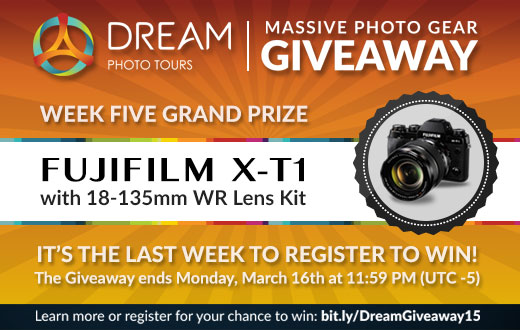 In celebration of the launch of our new Dream Photo Tours website, we teamed up with our favorite sponsors and partners in the photography world (including 500px!) to put together a massive giveaway of amazing photo equipment, photo editing software, and online services for photographers.
We're into the last week of the Giveaway, but there's still time to enter to win the Week 5 Grand Prize of a Fujifilm X-T1 and 18-135mm WR Lens Kit! For all the details, please visit the official giveaway page at: www.dreamphototours.com/dream-giveaway-2015