What a week! Last Friday, we got the word that 500px ISO was recently named #1 in Feedspot's Top 100 Photography Blogs Every Photographer Must Read. We couldn't be more honored to receive this accolade in the company of other wonderful blogs such as PetaPixel (2nd Place), Digital Photography School (4th place), fstoppers (5th place), and Chase Jarvis' blog (10th place). A million thanks and high fives go out to all our talented blog contributors, and our hundreds of thousands of loyal readers and devoted social followers, for making this happen!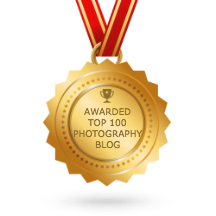 To continue this week on a positive note, we rounded up the top 25 images that reached the front page of Popular over the last week. From the most awe-inspiring landscapes to eye-catching portraits—these are the photos that were liked, favorited, and commented on by you and your fellow photographers in the 500px community. Read on to get inspired! Which one of the bunch is your favorite? Let us know in the comments once you're done scrolling through the collection below.
25. Moonlit Dreamscape in Glacier National Park by Zach Allia
24. Olga by Tatiana Mertsalova
23. Way of Light by Mikko Lagerstedt
22. Rays on green tea farmland by Tiger Seo
21. Foxes by Alexandra Bochkareva
20. The Glowing Window by Daniel
19. Sunrise in Rhodes by panagiotis laoudikos
18. Vestrahorn by Rune Askeland
17. Friday Night's Forest Dance Party by Lars van de Goor
16. Kirkjufell(foss) by Tomas Tichy
15. Nastya by Sean Archer
14. Tasman Blues by Dylan Toh & Marianne Lim
'
13. Millie The Golden by Dylan Furst
12. Pretty Sheeps on Ryten by Andrej Bazanov
11. Greenlandic Gems by Daniel Kordan
10. Switching the Shore by Johannes Hulsch
9. Valleys by Vincent Favre
8. Sweetness Of Light by Timothy Poulton
7. Olya by Georgy Chernyadyev
6. Aulangonjärvi From Above II by Lauri Lohi
5. Untitled by by Florian Pascual
4. The Empire by Ole Henrik Skjelstad
3. Just say Om! by John Wilhelm
2. Little Ones by Elena Shumilova
1. The Giants of the North by Max Rive
If "Popular" isn't your thing, then give our Editors' Choice page a look. Every month, two incredibly talented 500px community members go through our photos to dig up and curate the best photos that you might've missed.