Working as a photographer's assistant is one of the best things you can do to learn and break into the field as a professional photographer. I chatted with Rodrigo Daguerre, photographer and photo editor at 500px, about his experiences working as an assistant and what he's learned.
Rodrigo's story
Rodrigo Daguerre grew up in Buenos Aires. He was interested in photography, but knew that he needed to actually try it out to see if it was what he truly wanted to do, so he got a gig working for a fashion photographer for a few months—and he loved it.
After deciding to study photography abroad, Rodrigo came to Canada, where he completed the Sheridan photography program in Oakville over the course of two years. In school, he learned a lot—both technical and creative—but knew it wasn't enough: he knew he needed to "get his hands dirty in order to learn the craft."
After graduation, he got a job working as an assistant and gained a lot of knowledge, quickly. "You need to be fast; you need to be aware of everything that is happening on set," Rodrigo explains, "because you're helping the photographer—you're not there for anything else."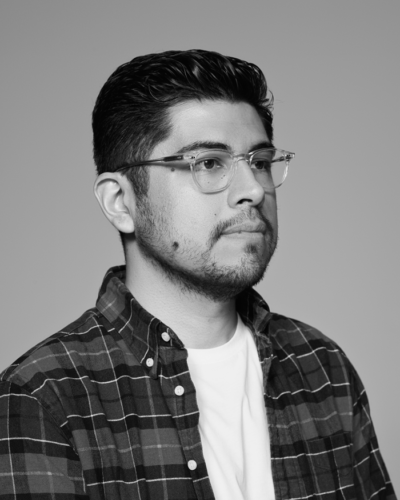 Rodrigo Daguerre
What the job is like
Rodrigo likens a photographer's job to solving problems: How do you capture that elusive portrait? How do you create an end result the client is happy with? What do you do when unexpected challenges arise? "Assisting photographers, you start to discover how professional people solve these issues," Rodrigo says.
Part of an assistant's job is not only handling problems, but anticipating them. Issues can be varied: "models being late, gear not working properly, lights may not work." You have to have a plan, because as Rodrigo explains, "You can't not get the shot."
What are some of the other things you can expect to do as an assistant? Rodrigo explains a few common duties:
Making sure all the gear is ready. You need to know what the photographer will be using, and have any extra stuff you may need on hand.
If you're working as a digital capture assistant, you need to be checking files on the computer as they come in, and making sure that everything is organized and in its place.
You're "an extra set of eyes." Rodrigo explains that since often it's easier or quicker to fix things on set than in post-production, you need to keep an eye out for anything that looks off. The feedback is often as simple as "the suit is wrinkly"—but it can make a huge difference for editing later.
Other tasks may also fall on your plate. Depending on the photographer, "tasks may lay on you to organize lunch, building a set, clean, steam the wardrobe, or go get something that is missing in the shoot."

Finding work as an assistant
Great—so you know this is something you want to do. But finding the right gig—or any gig at all—isn't always easy. Rodrigo shares his tips for handling the process like a pro:
1. Do your research and find photographers you admire and want to learn from—and reach out to them. It's a lot of cold calls and emails. "It's tricky—you want to be persistent but not annoying," Rodrigo says. He advises to keep emails professional, but friendly.
2. Working as a second assistant is a good way to get in. Rodrigo explains that there are two types of assistants: a first assistant works with the photographer on a regular basis, but an additional second assistant can also be hired specifically for special shoots.
3. Having a portfolio and a website is a must. "They want to see what you do, what kind of photographer you are. Even though you're not taking any photos," Rodrigo explains.
4. Showcase your personality. It can affect how much and for whom you get hired. "You need to bring positive energy. Show that you want to be there, that you care," Rodrigo says.
5. It helps to assist a variety of photographers. Rodrigo has assisted food, fashion, and corporate photographers. A broad range of photography styles can give you a glimpse into what working in each field is like. "Food photography, for example, is very team oriented," explains Rodrigo. "If the styling of the food isn't right, the photos won't be right. Same with fashion photography. If hair and makeup isn't good, it shows."
6. Make the most of each opportunity. "When you get in – that's the moment you shine. Prove that you're needed; that you bring something extra to it."
Next steps
So, how do you know when you're ready to start working on your own? For most photographers, there's a "period where you stop assisting, and you start getting your own gigs," Rodrigo says. It's not always an easy transition: "You're getting an income; hopefully it's helping you make a living… but it's a slow process." As for how to make the switch? Some photographers do a "full stop," while others continue assisting every once in awhile. "The trick is to have a balance between both to make the transition easier," Rodrigo says.
One of the biggest things Rodrigo says he's learned from working as an assistant is the importance of being professional—during every moment of the process. "The reason people hire you is because they have a nice experience with you. You can be the best photographer in the world, but if you are rude or unprepared, they may not go back to you because they had a bad experience." Be prepared, stay positive, and be mindful of what you say and how you act on set. Be aware that you're dealing with another photographer's clients, not your own. Stay respectful and make it a great experience.
Above all, make sure to enjoy the process. Remember why you do it: because you're passionate about it.
Rodrigo has moved on from working as photographer's assistant to focus on his own photography projects. Follow Rodrigo on 500px and check out his Instagram to see more of his work.