Whether it's for fun or it's to keep up with the modern demands of being in the creative industry, more and more photographers are trying their hand at cinematography. After all, video is one of the most widely-shared content by consumers in social media, email, and the rest of the Internet. Exploring new mediums that can easily go viral is a great way for artists and creators to get mainstream exposure for their work, and gain new clients.
And who better to talk about this experience than photographer and filmmaker Beno Saradzic, whose timelapse film of Dubai, "Beyond: Memoirs In A Time Lapse" went viral and even received a nod from the UAE Vice-President? The last time we caught up with Beno, he documented his exciting 24 hours in aerial cityscape photography for us. Today, this News & Documentary Emmy Award-nominated artist is back to share his expert tips and tricks for producing and shooting timelapses with you.
Scroll down for timelapse video tips, followed by an exclusive Q&A! But first, check out his awe-inspiring timelapse video, "Beyond: Memoirs In A Time Lapse". Hit play to start watching:

BEYOND – Memoirs In A Time Lapse from Beno Saradzic on Vimeo.
Want to learn more about how you can get started with timelapse cinematography? Below, Beno Saradzic shares the secrets to shooting timelapses—from his go-to gear to resolving basic issues.
TIMELAPSE GEAR GUIDE
I used pretty much every camera in my arsenal, starting with the compact Canon PowerShot G9, G11 and G12 fit with the 72mm filter adapters, as well as the mid-range DSLRs such as the Canon 60D. Majority of my shots were captured with a pair of Canon 5Ds: Mk2 and Mk3. For riskier locations, where weight and size of the camera were presenting a hazard, I used the HD Hero 2 Go Pro. I'm pretty sure no one can tell which camera was used on any particular shot.
Contrary to what most beginners think, you don't need the most expensive camera and lens to shoot timelapses. If you're rendering in Full HD (1920 x 1080), you're only going to need approximately 2 million pixels to fill the screen. At that resolution, the quality of your lens really won't matter much because HD resolution won't be sufficient to resolve and reveal its weaknesses. As for your camera's sensor, I think it's impossible to find a DSLR which captures less than 12 million pixels and that is more than you'll ever need for your HD timelapses. Resolution of your camera definitely won't be an issue, unless you're thinking of shooting 4k.
I had many panning, tilting, and dolly shots in my film. To achieve those camera moves, I used a an awesome 3-axis motion control system from CamBlock which is incredibly versatile and well made hardware. Sturdiness of the camera platform can't be emphasize enough when it comes to professional timelapse photography. I've also used Genie by Syrp. This incredibly compact, 1-axis motion control system is extremely compact and it fits in a single lens compartment in my camera bag! I can't recommend it enough for simple camera pan, dolly or tilt moves.
I had a whole bunch of basic intervalometers, but the most important one in my camera bag was—and still is—the Promote Remote Control. It's the Swiss knife of remote controls, loaded with an endless array of functions such as timelapse, Bulb Ramping for shooting of smooth day-to-night sequences, Bulb HDR, and many other modes. Everyone should own one.
I used many ND filters in order to "drag the shutter", which is a term used to describe the motion blur. This is an important technique for achieving a softer, more cinematic look for your moving subjects. Without the ND filter, daytime exposures are very short, causing the moving subject to move abruptly from frame to frame in a stroboscopic manner. timelapsers call them 'blips' and it's something you don't want in the film.
I had many Manfrotto tripods and tripod heads on this project, especially for supporting the several meters long CamBlock dolly. My main tripod however was the Gitzo GT5541LS, fit with the Really Right Stuff BH-55. Both the tripod and ballhead are built like a tank so stability was never an issue.
I've used an array of Canon lenses, such as the 24-105mm f/4.0L, Canon 70-300mm f/4-5.6L IS USM, Canon 50mm f/1.2L, Canon 100mm f2.8L IS USM and my absolutely favorite lens; Canon TS-E 24mm f/3.5L II and Canon TS-E 17mm f/4.0L. They are incredibly sharp tilt-shift lens, perfect for shooting architecture and landscapes.
Certain shots, like the giant moon rising were captured with Sigma 300-800mm f/5.6 EX DG HSM, aka 'The Sigmonster', doubled with a Canon EF 2.0X III Telephoto Extender. I like this lens a lot.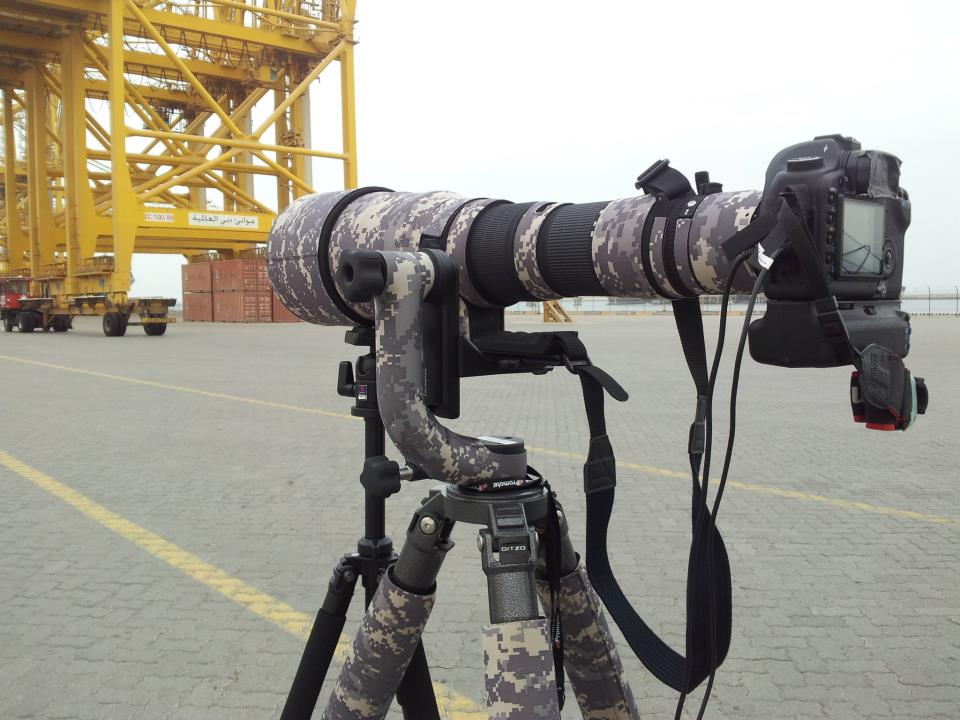 4 BASIC TIPS FOR A STABLE TRIPOD
Stability in timelapse photography is everything. A single shake during your timelapse shoot can ruin your sequence. If there's one piece of equipment where you shouldn't skimp on, that would be your tripod.
1. Buy a heavy duty one and the best tripod head you can afford. Gitzo, Manfrotto or a professional camera support like Sachtler or OConnor would be the way to go. To add extra weight, especially when you're shooting with telephoto lens, tie a bag filled with sand under the tripod. This will nail your tripod to the ground and chances of vibrations will be minimized.
2. You want to see some motion blur on your moving subjects during the daylight. Use a good quality ND filter. Look for brands like LEE filters, Tiffen or B+W. You should be aiming for shutter speed of 1/2s to 1s in broad daylight. Assuming you're shooting at f4.0, ISO 100 and depending on the ambient brightness, you may need an ND filter with 7, 8 or 9-stop of light reduction.
3. Time lapse photography is power and memory hungry! Don't even think of going out there with anything less than a couple 128GB memory cards and a half dozen fully charged batteries for each camera body!
3 TIPS FOR BALANCING YOUR IMAGE SETTINGS
1. All camera settings must be set on manual from exposure mode (M), fixed white balance (like Daylight or Shade), fixed ISO (100 or higher), manual focus. Image Stabilization on your lens should also be turned off because your camera will be mounted on a tripod.
2. Dig into your camera's Menus and find Noise Reduction if your camera has it. Disable it as it slows down your camera unnecessarily.
3. Shoot in RAW mode and turn off JPEG file saving. There so much information in a RAW file which you won't see, but your computer will once you get into post production.
HOW TO GET RID OF THE FLICKER IN TIMELAPSES
Flicker is a timelapser's curse. You'll be dealing with it no matter how many precautions you take to avoid it.
There are 3 types of timelapse flicker: Aperture flicker, Shutter flicker, and the flicker caused by the changing of camera's exposure settings. It is therefore important to know what causes the flicker and setting your camera in a way which minimizes this evil. You may still have to remove some of it in post production. Flicker is a result of frame-to-frame luminance changes caused by mechanical inconsistencies of the camera's aperture iris and/or shutter's movement.
Your DSLR is full of mechanical precision components and inaccuracies of their operation will affect the exposure to fluctuate during the shoot of a timelapse sequence. Played at 25 frames per second, these slight exposure deviations will result in a nasty flickering of the your film.
Electronic Aperture iris in modern lenses don't return to their exact position after each exposure. Your camera will reset the iris, but upon returning to its originally set value, its diameter will change very slightly. So you may think your lens is still set at f 4.0 but in reality, the actual aperture will vary by fractions of an f-stop. First frame will be exposed at f 3.95, next one at f 4.03 and so on. This isn't a problem if are shooting still pictures but in a timelapse sequence, these tiny exposure variations will cause the image to flicker.
One way to minimize this issue is to shoot as wide as possible. If your lens' widest aperture is f 4.0, try to shoot at this value and use an ND filter to slow down the shutter. Oscillations of the wide open iris will vary far less pronounced than those of the closed down iris. Don't even think of shooting a timelapse with your lens Aperture set to f 9.0 or smaller. You'll regret it.
Aperture flicker
Best way to deal with Aperture flicker is to trick your camera into thinking your lens is a manual one, with a mechanical, not electronic iris. This is achieved by a technique called lens twisting. This is what you need to do: set your Aperture to f 4.0 or any other value of your choice. While holding the depth-of-field preview button on your camera's body. You'll hear a mirror as it flips up. Press on the lens unlock button and twist it slightly. It is important to keep the DOF preview button pressed throughout the procedure. You'll hear the sound of the mirror as it flips back down and aperture value on the camera's display will read f 00. Electronic connection between the camera and lens will be disabled but and the aperture iris will be locked at f 4.0. From now on, iris inside the lens will remain locked in this precise position after each exposure. Just don't forget to twist and lock the lens after the shoot or it may become loose and fall off.
Shutter flicker
Another type of flicker is caused by the shutter. That's another mechanical part in your camera which will lose its accuracy with increased speed of its actuation. Use an ND filter to cut the amount of light reaching your camera's sensor. This will lead to longer shutter speeds and with it, increased accuracy of its movement. I try to maintain my exposure times from 7s (night) to 1/20s (day). Shoot faster than this and you're risking shutter flicker, especially with amateur DSLR models.
We hope you found Beno Saradzic's timelapse videography tips and tricks helpful. Now let's go behind the scenes and meet him in this exclusive 500px interview. Scroll down to get more insights into the making of his timelapse video. Plus, see some of his incredible cityscape images.
500PX: Beno, thanks for sharing all these amazing tips with the 500px community. First off, congrats on your Emmy award nomination for the documentary, "Wild Arabia". What were you doing when the announcement came out?
BENO SARADZIC: Thank you! I was in a middle of a complex timelapse shoot at the airport when the tweet came from Chadden Hunter, the producer of "Wild Arabia". He announced that the series got a nomination for Outstanding Nature Programming category and Outstanding Cinematography; Documentary and Long Form. My mind went blank for a moment, followed by a massive "Yes!" growl and 30 seconds of dual-fist pumping. One could say I was very happy with the news!
That's awesome. Your body of work encompasses photography and cinematography. Which came first for you between the two disciplines—photo or film?
BENO: To me, photography and cinematography mean one and the same thing. It's an exploration of light and its absence. It's also the study of time and its manifestation through motion. The very first time I used a DSLR camera, I shot a sequence of still frames. All shots featured the same skyscraper, and as I flipped through the sequence, I couldn't decide which one I liked the most. Sure I loved the subject, but what really intrigued me was the factor of time; they way it transformed the shadows on the building's facade, cast by itself and the adjacent structures. They altered my perception of the subject and offered surprise. Time changed intensity of light and its perceived color. Every capture was a slice of frozen time, and I found them all fascinating in their own way. What made me equally curious though was how time changed and transformed the void between the stills. That kind of magic could only be appreciated through motion. My love for photography and capture of motion is divided in two equal parts.
Is getting into videography something you would recommend a photographer to do?
BENO: The only thing I'd recommend to any photography enthusiast with a camera is to shoot what he or she wants, they way they want to. There's really no right or wrong in this art form. All it matters is that your feed your passion and to express yourself. However, my advice to anyone considering making a switch to professional photography is to keep all options on the table and be ready to adapt quickly. More has changed in the field of photography. Internet, online advertising, streaming, and social media have completely transformed us and how we view information. We are fed by a perpetual newsfeed from every imaginable device, bombarded by an audio-visual overload which knows no sleep. We no longer have the time or patience for anything but a quick, superficial glance at any information. Internet has finally lived up to its prophecy and HD films can now be transferred to our computers and ready for viewing in a matter of seconds, if not in real time. Visuals need to be loud, bright, intense, emotionally manipulative, shocking and disturbing in order to attract few precious seconds of our attention. In the world of advertising, news distribution, internet and social media, still images are no longer sufficient. How information is acquired or manufactured, transported, and consumed today has had a profound effect on all traditional visual art forms—photography in particular. Still photography will continue to maintain its unique place in the world of art, but emerging as the new champion of communication is digital video, distributed through internet. You already watch it. Consumers can't have enough of it. You client wants it. If you, as a visual artist can't deliver video, they will go to your competitor because that's where the market is today.
BENO: (continued) Here's the good bit of news for the photographers: making films is fun. Lots and lots of fun. Because films are a multi-disciplinary art form, they exist on multiple planes of creativity. Films will take your journey onto the newly discovered, vast fields of your own imagination. Whatever you have learned about the craft of still photography will still apply in the arts of film making, but that's just the tip of the iceberg. Prepare for a thrill of a lifetime!
Now let's talk about your acclaimed film, "Beyond". How did this project come about, and what inspired you to go out and shoot this film?
BENO: "Beyond" started off as a mere introspection of my best lapse photography work, shot between 2011 and 2013. Most of the footage featured in "Beyond" was commissioned by the BBC, Discovery Channel, and a few other clients. What started off as a conventional cinematographer's showreel turned into something else altogether in the end. In June 2013, I started the process with the selection of best-looking sequences from my archives. I created a simple and straightforward edit, mixed with an upbeat library music. First cut wasn't bad, but it wasn't great either. I didn't put much thought into the sequencing or editing—there was no narrative. As a reel, it was probably good enough to share with my clients, but I ended up feeling like I was missing an opportunity to produce a more deserving showpiece of my capabilities; not just as a cinematographer but as an editor and a storyteller. I got very busy in the second half of 2013 which distracted me from finishing what I started. It wasn't until February 2014 when I found the time to go back to editing "Beyond". I approached my long-time friend and music genius, Vladimir Persan. I showed him what I did on my reel so far, and he agreed to score it which made me very happy. He started coming up with a theme, but he felt that my film lacked a message and chaptered structure—something I knew already. I realized I needed to go back to the drawing board.
BENO: (continued) Driving along the majestic skylines of Abu Dhabi and Dubai, I remembered how dramatically it had changed in just 23 years since I first arrived in the UAE. No city in this world was built faster, or more impressively than Dubai. It's a miracle to see a city like Dubai in one of the hottest, driest parts of the world. It was the motivated, clever, forward-thinking, hardworking, resilient men with means to pursue their dreams which made the UAE what it is today. For people like this, the future is already here, and it is a bright one. That was going to be my story. I organized my footage into three distinct chapters, and named them "Sparks of Inception", "The Pulse of the Organism", and "From Here to Beyond". It got a lot easier from this point onwards. I knew what footage I needed, and what scenes I still had to shoot to fill the missing gaps. Editing suddenly became a breeze. A few weeks later, I sent an improved cut of the film to Vlad for music scoring. It was an incredibly satisfying process.
So inspiring to hear that. How did you choose the locations in "Beyond", and what influenced your choice?
BENO: Most of the footage in "Beyond" was selected from the library of my various commissioned shoots, so I didn't really have to worry about footage. This film was all about making the right edit choices with aim to convey the story. I had all these puzzle pieces in front of me with no final image as a reference! Once I got my first rough cut, it became clearer where I was going with this film. Most of the work was needed in the first and last minute of the film. That took me a while to figure out. For the intro, I wanted to feature a variety of explosive construction shots with big and fascinating looking machines, operated by tiny humans. For the ending, I hoped to find the most stunning, fog covered aerial cityscapes I could fit in the film. I was missing most of those sequences, so I needed to shoot them. To any Dubai-based cityscape photographer, low-level rolling fog is the highly-prized event. It is the magic moment in this city. This highly-photogenic phenomenon isn't easily predicted, and its elusiveness is legendary. It occurs only once or twice per year. If you miss it, it's gone for a full year. A great deal of planning, patience, and luck were needed to get those shots.
What is your personal favorite location or specific shot in the film?
BENO: Most of the scenes in "Beyond" are special to me because they remind me of the times, places, and people I met along the way. I had an amazing time discovering and shooting this little film. I'm not a guy who gets easily impressed, but the sight of the Burj Khalifa sailing through the fog at sunrise literally took my breath away when I first saw it. I was barely able to focus on the task at hand, and I nearly messed up my camera settings because of that. It's really hard to put into words how spectacular this city looked that morning, submerged beneath the milky ocean of fog.
BENO: (continued) Another astounding location was Dubai's Jebel Ali container port, the second largest in the world. I spent 3 full days shooting their daily operations at the yard. Massive container ships as high as a skyscraper, a sea of colorful containers from every corner of the world, and giant robotic cranes, loading and unloading round the clock. That kind of sight will inspire anybody.
BENO (continued:) Some of the best scenes there were captured from the top of the container cranes, called "Megas" by the people who work there. There's a good reason why they call them this way. Dubai's "Megas" are the biggest container cranes in the world. These monstrosities are over 100 meters high and just as wide. During the operation, they move sideways on rails, supported by steel wheels larger than an average 4×4 vehicle. Standing on top of these machines was truly humbling, if not existential.
BENO: (continued) Shoot at the Dubai International Airport was just as exciting, especially the strictly off-limits areas to any outsider like Airside, place where planes are landing and taking-off. I had to change the shooting spot several times during the my visit at runway. I was taken around by the airport security car which was crossing runways during the narrows gaps of time when no plane was landing or taking-off, just so I could get my camera gear in the right place for a timelapse shoot. Think about that for a moment.
What challenges did you face during the making of this film?
BENO: Shooting timelapses will test the very limits of your patience, physical endurance, and dedication. In my film "Beyond", there's a scene featuring the opening of mechanical solar panels mounted on the exterior of the tower facade. It took me 2 weeks to capture approximately 12 seconds of footage. Each shooting session lasted 8 hours, from 8 a.m. until 4 p.m. I had 3 cameras with motion-control system which weighed a ton. First time, I was interrupted by rain which soaked all my cameras and lenses. Few days later, the same thing happened. Third time, the shoot was ruined by low lying clouds which cast nasty flickering shadows over my subject's facade. The scene was unusable once again. Fourth and fifth time, I got the rain again, as well as powerful wind gusts which nearly blew the equipment away. It was only the sixth tentative where the weather cooperated for a full day and I got my shots.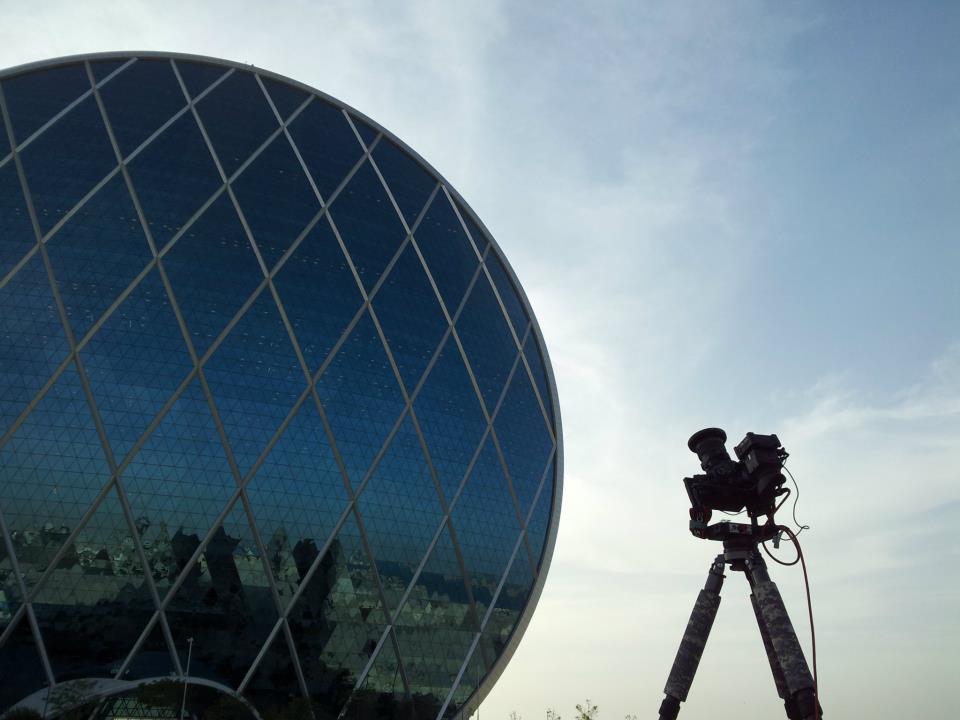 Some of the shots were captured from the rooftops of skyscrapers under construction. As temporary elevators used by the construction workers don't go all the way to the top of the structure, I was forced to carry about 80 kg of gear on the stairs, dozens of floors up high. I had to endure insane Arabian heat and humidity, as well as the bitter cold and icy winds during the Winter days. You can't imagine how strong the wind gets on top of a 350 meters high skyscraper without windows. I've broken and lost camera gear, injured myself which almost made me hate photography. Production is tough, and it takes its toll.
How long did it take for you to complete this film?
BENO: The first scene was shot in October 2011, and last one in May 2012. Pick-up shots were captured between November 2013 and February 2014. All the time in between until April 2014 was spent editing, grading, and scoring the film. 7 minutes may not sound like a lot for a film, but the amount of work that goes into making a timelapse film is daunting, especially if you're working on your own. I don't exaggerate when I say that time lapsing isn't for everyone. Only patience, passion, and dedication will see you through.
Did you anticipate that the video would get a viral response on the Internet?
BENO: To a certain degree, I'd say yes. Before this, I've already produced a timelapse film of United Arab Emirates, which generated quite a lot of buzz in the media. Because of this, I was on the radar of many people and they were expecting a follow-up. When "Beyond – Memoirs in a Time Lapse" was released, it took just few days before it was viewed by the vice-president of the UAE and the Ruler of Dubai, His Highness Sheikh Mohammed Bin Rashid Al Maktoum. That was such an honor! He tweeted and praised my film to millions of his followers, which was followed by interview requests from the UAE and abroad. There are still many people who haven't seen my film, but in the UAE, it has gone all over the place.
Sounds great! Do you have any upcoming projects in the works?
BENO: You bet. My mind is always grinding new ideas, new shots, and new stories. I'm currently writing a script for my next film, and I intend to shoot the first scenes later this year. It won't be another timelapse-only project, but a film with a lot more depth and layers of storytelling. I intend to mix various cinematography techniques which I practiced extensively during the past three years. I can't wait to get started!
Follow Beno Saradzic on 500px to see more of his images.
To connect with him, check out his Facebook, Twitter, Vimeo, and Google+ pages.
Got any questions or feedback for Beno? Leave a comment for him below!