There's a new 500px iOS app in town, and it's about to totally revolutionize how you experience the 500px community on-the-go.
Gone is the clunky and complex old app that required no less than 4 actions just to search for a photographer you wanted to follow, and in its place we're introducing an all-new experience re-designed from the ground up to be simpler, more intuitive, and more beautiful than ever.
Introducing the new 500px Mobile for iOS. Already extensively field tested ahead of release by hundreds of 500px members to make sure it's up to our absurd quality standards, we're convinced this new app is the best way to experience 500px on a mobile device.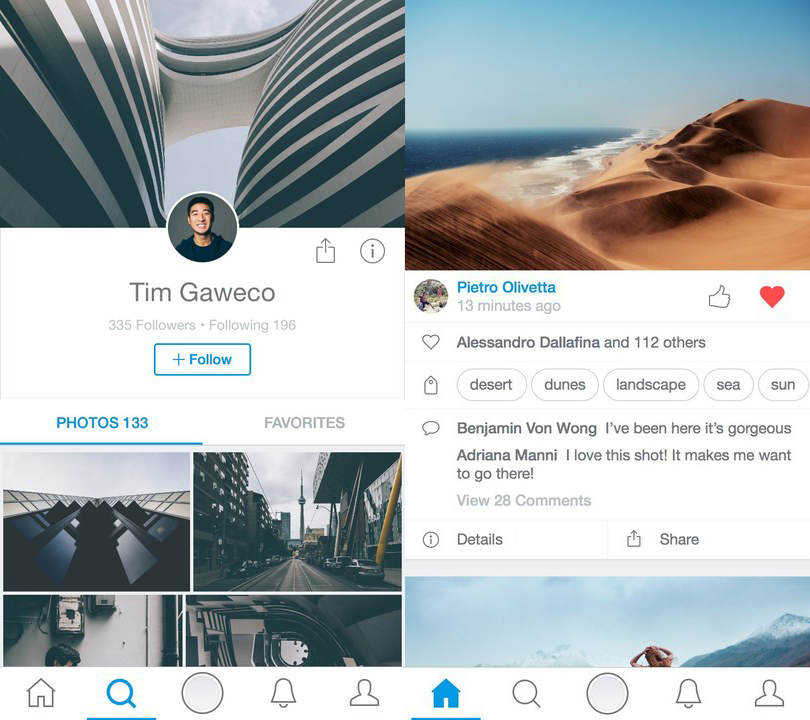 If you haven't been using our old app, we won't blame you: give the new app a shot though and we're sure you'll be hooked instantly. If you have been using our old app, you'll notice a few… umm… slight changes.
Okay, that was an understatement. This isn't a new coat of paint or an addition to the back of the house, we burned the old house down and built a prettier, more functional house from the foundation up.
Now easier on the eyes, the app features beautiful new animations and a light visual style that helps your photos shine. This design overlays an app that is leaps and bounds easier to use and much more functional, no matter how you prefer interacting with your friends and fellow photo lovers on 500px.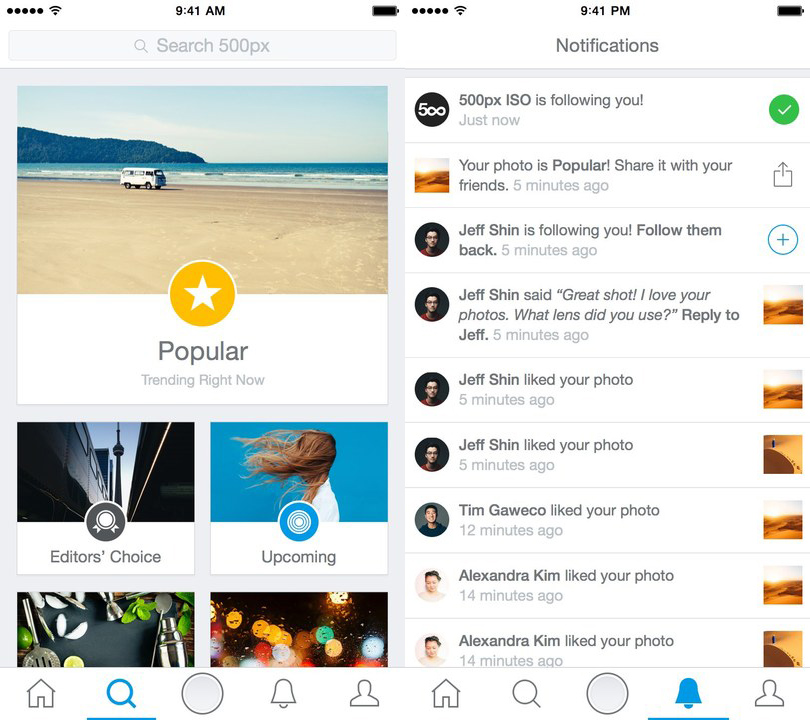 Here's a quick bullet point breakdown of what's new in Version 4.0:
The all-new home feed keeps you up to date with the latest photos from the people you follow, mixing in recommendations so you're always discovering new talent and meeting fellow photo enthusiasts from across the globe.
A new & improved Discover section ensures you're never far away from the most inspirational photos on the Web, while making sure everybody who joins 500px has a chance to be seen.
Streamlined search lets you quickly and easily find the people and photos that move you most.
Your 500px profile has never looked better on a smartphone! Featuring the same sleek, minimalist styling as the rest of the app, each of your photos is now displayed in the appropriate aspect ratio under an eye-catching banner and profile photo.
Uploading photos straight from your phone is much easier now. And with built-in Adobe editing tools and presets, you can make sure your photos have that signature style all your own.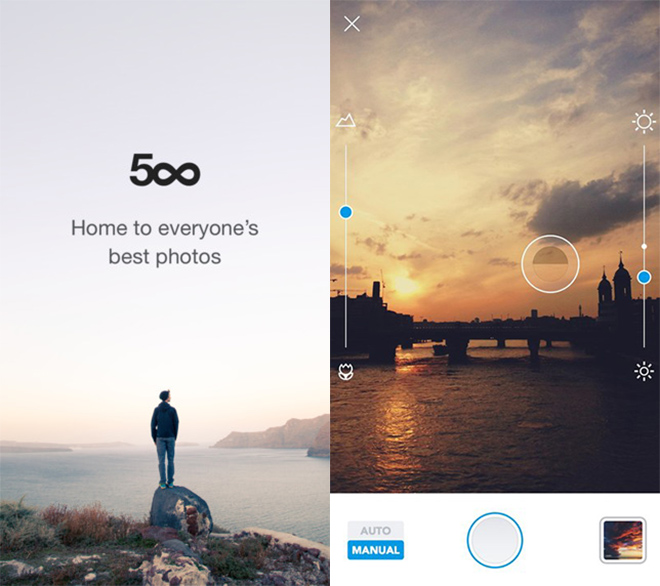 But a bulleted list is going to do the new app justice. Having been using each successive build for the past several months, I can say personally that the experience of 500px on mobile is finally addictive in the same way that browsing photos on the web is.
Whether it's checking out the Discover tab or just scrolling through the home feed with its mix of images from my favorite photographers and recommendations, I've doubled the number of photographers I've followed and uncovered some amazing shooters thanks to the new UI.
And that, for me at least, is the best part of the app: it highlights the diversity of the 500px community, and helps me find inspirational work that I never would have stumbled across otherwise.
And speaking of inspirational work on the 500px app, we want to take a second to thank the four talented photographers whose images appear in the app's introductory Tour—Michael Matti, André Josselin, Pietro Olivetta, and Lukasz Stuku, you guys are awesome! Check out the full images below:
Obviously nothing I say here will matter if you don't go and give the app a try. So please, don't take my word for how great the redesign is. Download the new app on your favorite iOS device, take it for a spin right now, and let us know what you think in the comments!
As for you Android folks, take a close look because our developers are hard at work updating your app as well. For now, the party line is "Android coming soon," meaning later this year.