At this point in the digital age, we don't need to tell you that images are important to your brand. For years, you've been diligently putting pictures in every blog post, on social media, and in your email newsletters. You've seen for yourself the increasing significance of images online, evidenced in the soaring popularity of platforms like Instagram and Snapchat.
So, we're not here to tell you images are important to selling your product.
We're here to tell you that your images are your brand.
Consumers make no distinction. If you don't have quality images that captivate your audience, you haven't got squat.
And you can't just put the good photos on your top of the funnel campaigns. In order to convert, you've got to take a holistic view and make sure you have premium images from the top of your funnel to the very bottom.
The human brain (which all of your potential customers have) is far more efficient at storing information from a visual image than by hearing it or reading it. Research says that when we hear something, three days later, we've only retained 10% of that information. But when we see a relevant image along with it, we increase that retention to 65%. 67% of consumers say that clear images are "very important" to buying decisions, even more so than product descriptions and customer reviews.
What's more, our data show that high quality photography boosts engagement by 20%.
We are entering the post-stock era, friends. The smartest brands—even the small ones—will have custom imagery that's relevant, fresh and hyper-local.
The trick is capturing images that perfectly suit your brand without blowing your budget.
At 500px, we're putting ourselves at the leading edge of this revolution. We're tapping our network of 8,000,000 photographers in 190 countries, making it possible for brands to be hyper-local and global at the same time. And we're using analytics to optimize and match the right image to the right audience.
Take, for example, AirBnB. They know their audience wants to feel a sense of belonging and connection to the places they travel.
Recently, AirBnB needed more than 2,000 images of local neighborhoods from around the globe. They needed creative boots on the ground, all over the world.
500px for Business helped AirBnB build strong creative briefs, using our knowledge of what users respond to in travel images. Our analytics show that street-level imagery gives a 22% engagement lift. No helicopter shots of skylines will do.
So, we managed the selection of the right photographers from all over the world. Shoots took place in 700 neighborhoods in 25 cities.The images captured give potential guests a true sense of what it's like to live in a given neighborhood: a guy playing acoustic guitar for his girlfriend on a stoop, a mom pushing a stroller on a riverside esplanade, a runner and his dog out for their morning jog.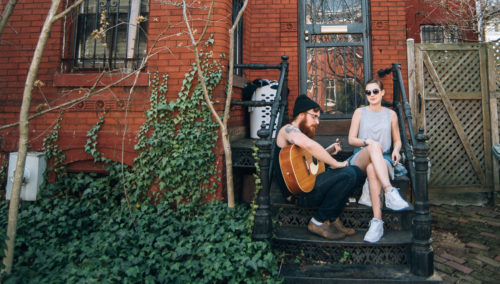 Photo shot exclusively for Airbnb
All images were on-brand. And AirBnB got exactly what they needed in just 6 weeks.
This type of scalable, custom photography has never been possible before. And brands who leverage it will blow their competitors — those who lean heavily on generic stock photography — out of the water.
So join us in the post-stock era. Your ideal brand images are out there, waiting to be captured.
We'll go and get them for you.
Learn more about how images boost engagement by watching this talk from our CEO, Andy Yang, presented at the 2016 Skift Global Forum.
Request a demo of 500px for Business.