Ignacio Palacios is best known internationally for his travel and landscape work. He has been continuously traveling around the world since 1998 but since he came to Australia in 2008, he has focused on photographing landscapes and using digital imaging techniques to produce more creative and fine art work.
His images have been published in international photographic magazines and books all over the world including National Geographic, Australian Geographic and Lonely Planet Guides.
To see more of his work, follow him on 500px, check out his website, or give him a follow on Facebook.
---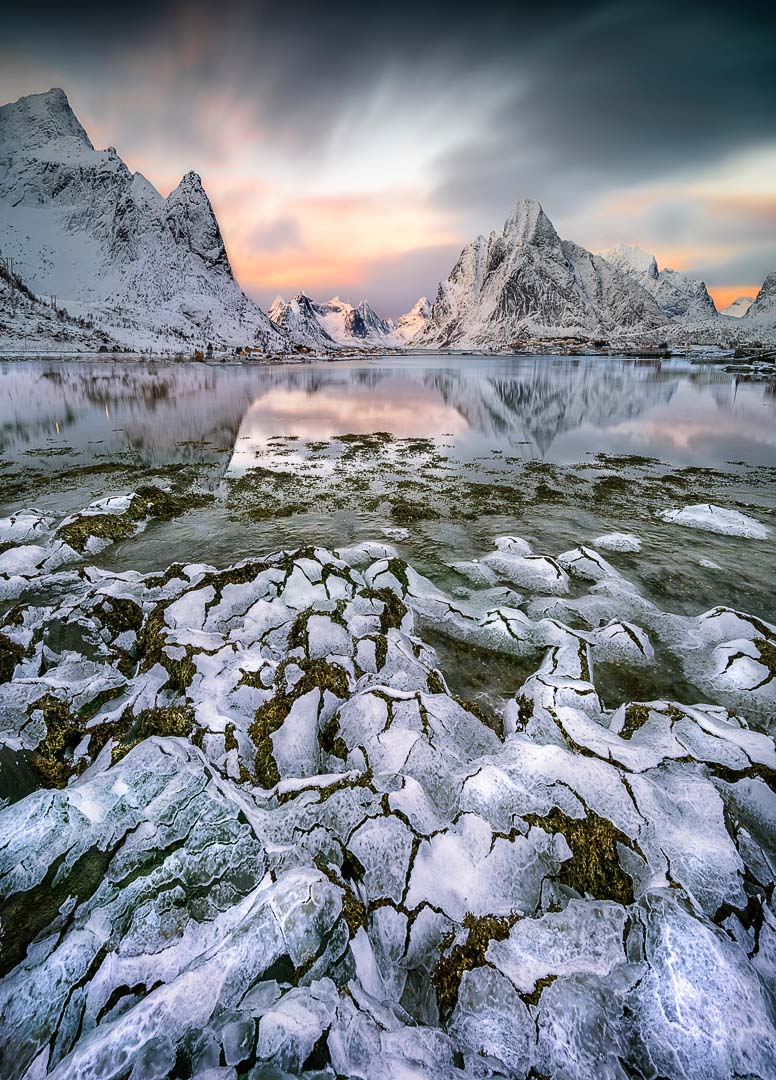 Never-Ending Sunrises and Sunsets A Photographer's Paradise
I had visited Lofoten before, in the Summer of 2004 on a two-month camping trip around Scandinavia, and when I arrived to these Islands, north of Norway, I fell completely in love with the power of this landscape and the size and shape of the mountains and peaks. I had always dreamt of coming back, and the opportunity finally came in February of this year when Javier de la Torre and Iñigo Cia invited me to come along on their photography workshop.
Traveling above the Arctic Circle is always a unique and a very cold experience; however, although Lofoten features a sub-polar oceanic climate, winter temperatures are very mild considering its location. In fact, Lofoten has the largest positive temperature anomaly in the world relative to latitude. This is a result of the Gulf Stream, the North Atlantic Current, and the Norwegian Current.
Our goal was to capture some amazing landscapes in one of the most beautiful spots that you can find in Europe — and if possible, observe the Northern Lights. The trip had been planned to coincide with the peak of the Auroral activity and with the full moon. Even though it is probably best to experience the full colour of the auroras under a new moon, they say it's best to go at full moon to be able to photograph the snowy mountains at night. They were absolutely right!
Lofoten in Winter
When we arrived in Leknes it was snowing like I hadn't seen in a very long time. It was pretty chilly as well, but the first thing I noticed at first light was that the landscape was completely different to what I had experienced 11 years ago… The whole island was covered in snow, and below the snow was a thick layer of ice. So when we started to drive on ice, I was a bit worried until I was told that the vans had spikes (snow tires) designed for that purpose.
One of the first places we went to was the beach of Uttakleiv. Crampons were mandatory as there was ice and snow everywhere. Even the sand was frozen! This really puzzled me, I had never seen a beach covered in a white layer of snow. It was incredible!
The sunrises were so long and the light was so soft during the whole day that sometimes we would not even stop for lunch and would just continue shooting right until after sunset. Then, after a quick dinner, out we'd go again, hunting Auroras. Photographing with other photography obsessed people… It couldn't possibly get better than that.
Of course it wasn't all pleasant. My fingers and toes were frozen, and on a few occasions I could not even press the shutter button of my camera. I was in pain, but the excitement of capturing those amazing landscapes quickly made me immune to it.
The wind and the cold weather not only tested my endurance but also the strength of my poor Pentax 645D, which malfunctioned a few times — not focusing properly and not showing me the histogram in the screen. I think the extreme weather conditions were also too much for my Gitzo tripod. Two of its legs broke whilst setting up between some rocks trying to find a good composition…
I always shoot landscapes with a Pentax 645D medium format camera. I love it and it gives me files with a lot of detail to be able to print big and to push the files in Photoshop without showing noticeably noisy. However, I knew that my Pentax would not be able to capture the Northern Lights, and for that reason I also brought a great little camera, and a great lens. The new Fuji X-T1 and the Fujinon XF 10-24mm f/4R OIS.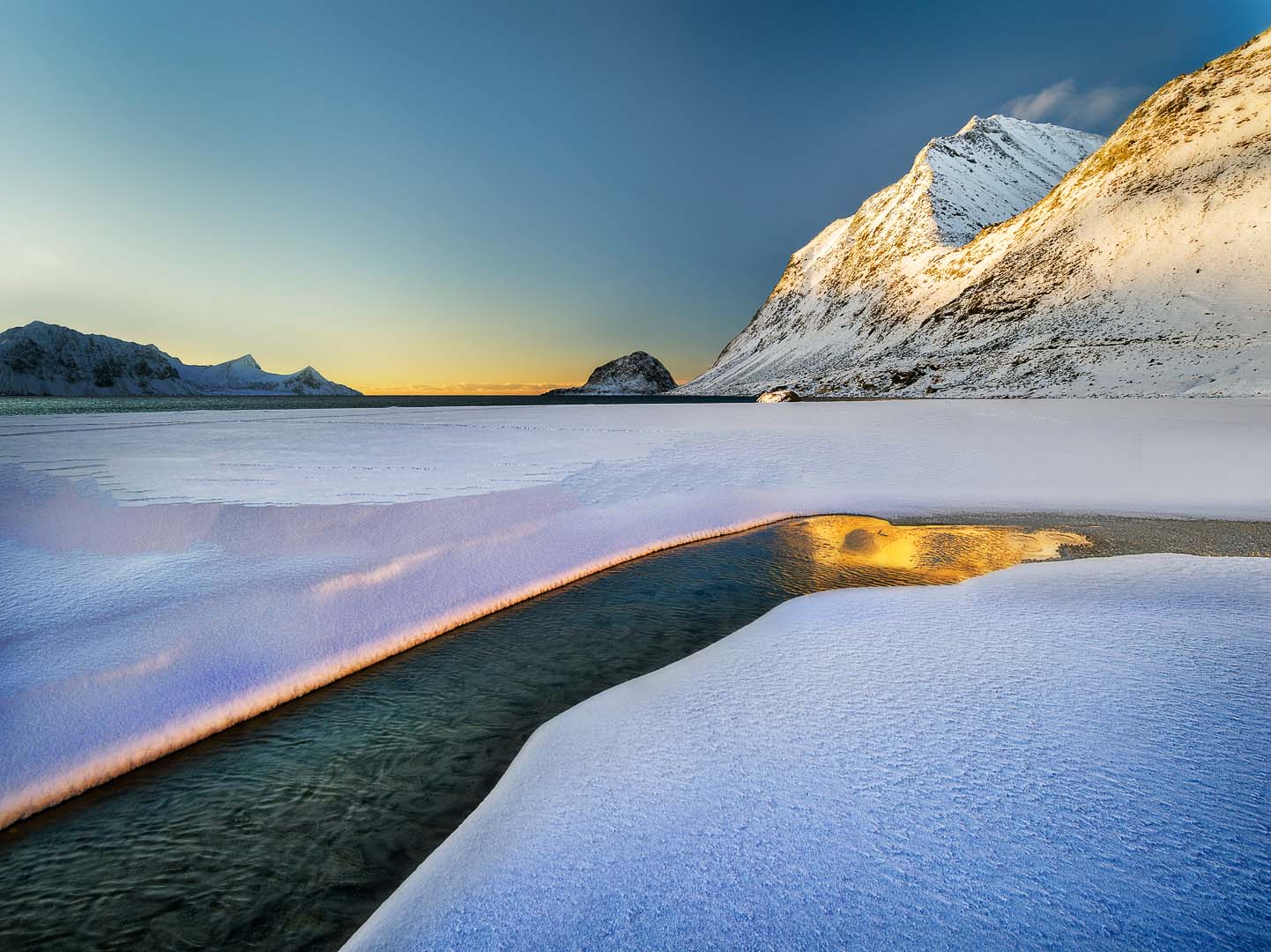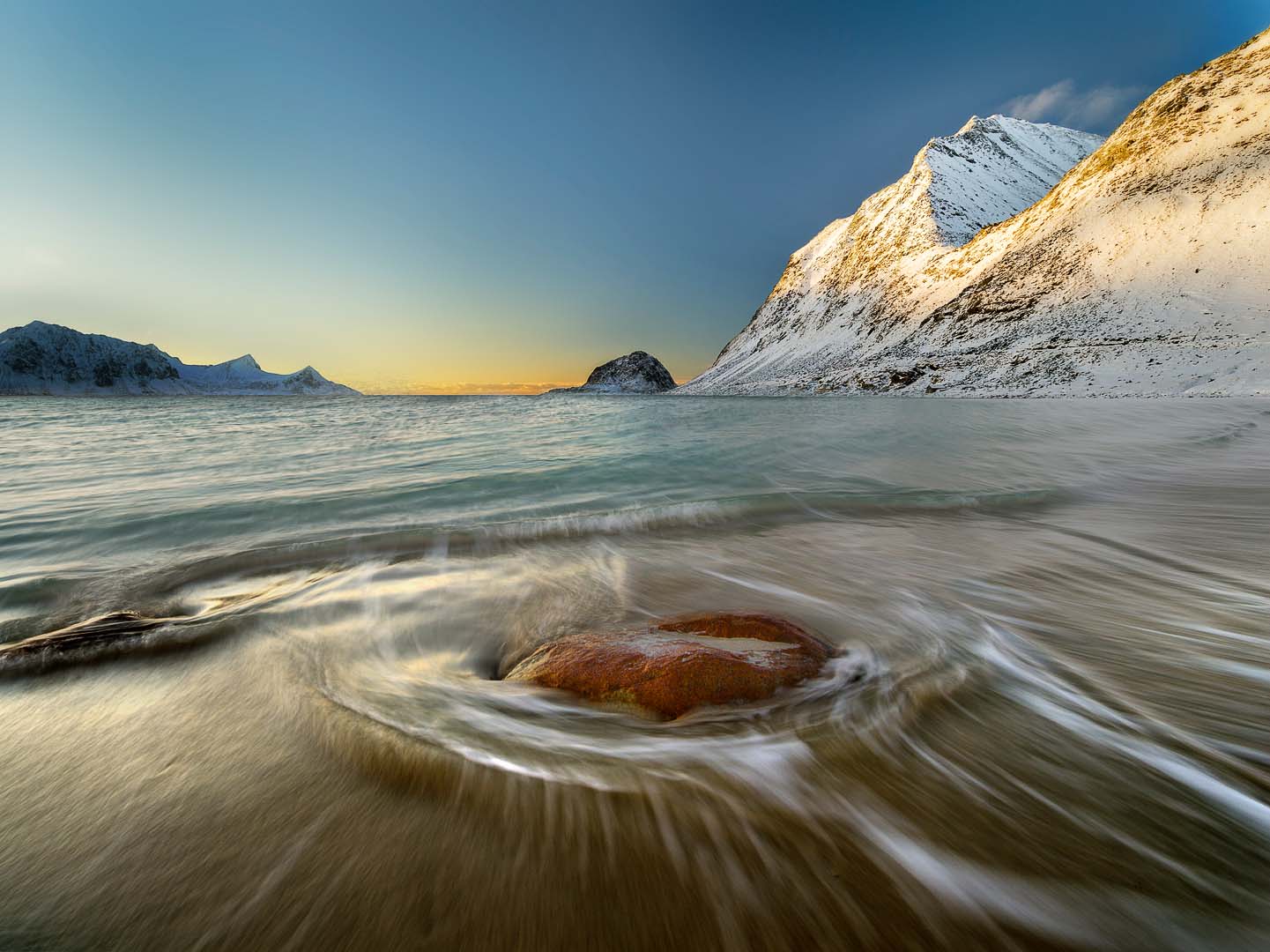 First Aurora Experience
We were checking the weather and the aurora forecast every day until, one night, the sky was clear. We were all pretty excited and went out. It was Kp 4, someone said… Everyone got excited… But what was the Kp index, I asked?
The Kp-index is a global geomagnetic storm index with a scale of 0 to 9. Based on that you can determine if there is a chance to see auroras or not. And a Kp 4 means an active magnetic field and chances to see them. I learnt a lot about Auroras with Javier and Iñigo during the trip… not only about the Kp index, but also about the ovation aurora forecast, and where to look in the sky.
Although we only saw one Aurora, I managed to capture it with my camera and it was an incredible experience. To photograph Auroras, if you don't want to lose the shape of it, you should expose at f/2.8 for around 2 or 3 seconds and at around 1600 ISO. However, the aurora came when we were all setting up our gear on the beach and since it was my first Aurora experience I got a bit nervous and couldn't find the correct settings in the dark — I ended up shooting it for 15 seconds. As a result, my aurora image didn't have any shape and I had to ask my friend Sergio Gonzalez to give me some of his files to merge with mine.
Some might not approve what I have done with the post-processing, but really, the purpose of doing this was to have a bit of fun. The post-processing video has been a bit controversial in Spain, where I am finding a large number of photography purists compared to Australia. In any case, here is the video of the post-processing done to the image:
To witness and capture some images of this aurora and these incredible landscapes was incredible. This was a great trip and Javier, Iñigo and I are leading a photo workshop to Lofoten again in February 2016. If you want to find out more, click here.
Hurricane Ole
The weather was beautiful for a few days but it started to get nasty when hurricane Ole hit the island. We were not allowed to go out of our cabins that day. The winds were up to 140km/hr and left the whole island without electricity for more than 24 hours. When we went out the next day we saw the devastation, but also had the opportunity to photograph the village under a full moon.