Intro
Who is Jeff Lombardo? That's a great question. Unfortunately, I don't have a great short answer. Instead, I can tell you my story and allow you to form your own opinion.
It all started around the time I was 5 years old. Every year my Mother would take me to Universal Studios in Orlando, Florida. The special effects, explosions, big cameras, behind-the-scenes access, and locations left me in a state of awe. I thought it was the coolest thing in the world.
Several years later and after several more visits in the can to Universal Studios, the original Batman came out with Michael Keaton and Jack Nicholson. It was larger than life. My father and I waited in line for 2 hours to see the opening in Times Square. During the movie I remember the batwing flying up to the moon and all you saw was its silhouette. That moment brought a rowdy New York City crowd out of their seats, cheering.
The energy inside that movie theater was insane. It was a life-changing moment for a 9 year old. Little did I know, the two experiences I just described would set the tone for my entire career.
At the time I was 14, my mother purchased a brand new Pentium 100 computer with 16MB RAM, 1GB Hard Drive and a 33.6K Modem for our house. We grew up in an Italian neighborhood of Brooklyn, NY in the 80's. Every Italian stereotype that you've seen in the movies applied to the life around us. My Mom hoped that buying a computer would provide a future for me and would get me to spend more time inside and less time outside where I could become a problem child in the streets.
We were in the era of AOL 2.5, Prodigy, and Juno where I could be found regularly in various AOL Chatrooms and part of hacker groups. These groups consisted of programmers, designers, pirates, and servers. I noticed a few positions available in one of the groups. I became the designer. I didn't have an ounce of art history at this point.
Upon joining, I got my hands on a copy of Photoshop 4.0. I was 14 with a lot of free time on my hands. I became very interested in Photoshop and it led me into web and graphic design. I began creating business cards, flyers, and websites for money through friends of the family. The Internet was brand new. People paid so they could say they had a website. They didn't even care about the design at that point. Having a new computer and a new skill set put me ahead of my time. No one knew anyone that was doing what I was doing and I became the go-to guy for anything computer/design related.
At 16, a family friend noticed the passion I had and connected me with his brother at a company called DIGI-ROM, which Def Jam outsourced their short-run CD duplication and artwork for their radio promotions. I ended up running the production department and designing the radio promotional CDs for JAY-Z, Mariah Carey, LL Cool J, DMX, Foxy Brown, 112, etc. This was during the Hip-Hop era in New York in the 90'… prime time.
Trouble started to find me at home and I decided to leave Brooklyn and attend an art college in Tampa, FL. College didn't last very long. I was already self-taught and I couldn't imagine all the student loan debt that was piling up. I owed $14K after 2 semesters. I would have owed $98K after 4 years. Once I realized that, I left after 8 months (2 semesters).
After leaving college, I was connected with another family friend who was in the "merchandise business." I started designing t-shirts for all the major sporting events and concerts while we traveled the country to sell them at different venues. We worked Superbowls, NBA Finals, World Series, NHL Playoffs, Nascar Events, and 80,000 seat stadium concerts, festivals, you name it.
It was an eye opening experience that allowed me see different cities, suburbs, cultures, food, music, lifestyles, learn the road, and see new financial opportunities. Up until that point I'd only been to Florida. I thought every city was like New York, until I left New York. I also realized travel isn't as difficult as everyone makes it out to be. It's actually pretty easy if you know how to play the game. I covered 39 states in 3 months at the age of 19.
After summer concert season ended and doing numerous laps around the country, I went back to New York. I found a freelance design job on Craigslist to design a DVD Box for an Adult Movie company in Los Angeles. The client I did the job for invited me out to LA for the LA Erotica convention after the job was complete. I took a portion of the money they paid me and purchased my flight.
I always had an obsession with California and I finally found a way out there. Once I got to LA, I already had a buzz going with the work I created. Now I had something relative to the industry to shop around as a portfolio piece. My only piece! When I got back to New York I received a call asking if I wanted to work for Larry Flynt's Hustler. They offered me $65K a year at 22 years old. I did what any 22 year old single guy would do, I worked for Hustler… in their art department. I moved out to California, something I always dreamt of. Hollywood was the land of special effects, explosions, big camera's, behind-the-scenes access and locations that left me in a state of awe as a kid.
6 months went by and I quit Hustler. It wasn't for me, but it served its purpose. It got me to LA, allowed me to make connections and make some money. I used it as a launchpad. I then found a creative agent in LA and took a placement test on Photoshop. I passed with flying colors and began getting placed at top ad agencies, NBC, MGM, FOX, Disney, EA Games, Warner Brothers and Universal Studios. At this point in my career I was 25, an independent contractor with titles ranging from Graphic Designer, Production Artist, Web Designer, and Art Director. I was designing movie posters, billboards, outdoor ads, DVD packaging, and websites for The Dark Knight, Twilight, New Moon, SAW IV, Yogi Bear, X-Men Wolverine, Yogi Bear 3D Valkyrie, and countless others over the course of 4 years. My work was on billboards, bus stops and train stations all over the country.
After a while I started to realize that you're only as good as the last title you work on. No one seems to care that you worked on The Dark Knight when Dark Knight Rises comes out. No one seems to care that you worked on SAW IV when SAW V comes out, or Twilight and New Moon when Eclipse comes out. Movies are dated, therefore so is my portfolio. When I designed the Twilight MySpace takeover (in MySpace prime), the movie studio paid $150k for a day worth of advertising on the MySpace homepage so 300 million people would see it leading up to the premiere. 300 million people saw my work in 1 day. That was crazy.
On one hand I felt a huge sense of self-accomplishment. On the other hand, I found myself having to convince people that it was my work because artists in studios never receive credit.
When you add it all up, billions of people have seen my work but no one knows it's mine. Giving up my intellectual property was part of the contract going in, so I'm not mad at anyone for that. I agreed to it. Without agreeing to it I would have never had the chance to do the work. But upon signing it you can't imagine the success it's going to have.
I never even heard of Twilight when I signed the paper. 2 months later it was the biggest thing in the world. I felt like the low man on the totem pole looking for recognition while everyone was looking past me. The only thing you can do in that situation is make it work for you on a freelance level and use your portfolio to your advantage.
Interview
500px: How did you get into photography and concert/festival photography specifically?
Jeff: After working on all those titles at the ad agencies, movie studios, and television studios, I felt like there wasn't anywhere else for me to go. I had reached my peak. I felt like I was stuck in a hamster wheel, chasing movie titles to stay relevant in my career.
The Dark Knight was the 2nd biggest movie of all time. Twilight set all kinds of records and Watchmen was the biggest IMAX release of all time. I also designed Hustler's highest selling title at the time.
When I was younger I always knew what I loved but I pictured doing what I love in my 40's or 50's, not at 25. When you're 14 years old searching for "Special Effects" mentors online under "occupation" in the AOL Member Directory (laughs), everyone was in their 40's or 50's. I figured it was an older man's game. They had a home, a wife, kids, the whole 9 yards. But here I was out in Hollywood for 2 years and I had worked at Universal Studios and worked on the Dark Knight (Batman).
Those experiences as a kid came full circle. I never planned any of it. I woke up every day and did what I wanted to do without much of a plan and doing what I wanted to do everyday led me to do what I was meant to be doing. I was already living the biggest dream I ever had as a kid. My projection of how long it would take me to reach my goals were off by a 20 years. I said, now what?
I decided since I didn't have anymore career goals at the time, I was just going to focus on living a good life. I decided I wanted to get back to traveling.
Photography all started to come together when I decided to put everything I own in a storage unit and started to travel, designing as a freelancer on retainer to support myself. During my travels I documented my trips and took pictures of different landscapes all over the world.
I was doing so with just an iPhone and a few apps that allowed me to point, shoot, edit, and share pictures on Social Media without any delay. The apps appealed to me from a design and editing perspective more than anything else. On the flip side, I still had to take pictures in order to edit and post them.
Once Instagram took off everyone started sharing their own photos and my competitive spirit took over and I began to take photography more serious. It forced me to take better pictures and I got into "iPhoneography."
One night I was on a flight and realized I was in love with the life I was living. I was on permanent vacation. I wanted to travel and take pictures forever. I asked myself what kind of profession allowed that? Travel… photography… travel photography? Is that real? I wasn't sure, but I said I'm going to be a travel photographer.
When I landed I took all my photos and built a website, broken down into all the places I've been, and called it Jeffsettin.com. It was a travel blog. I applied the "if you build it, they will come" mentality.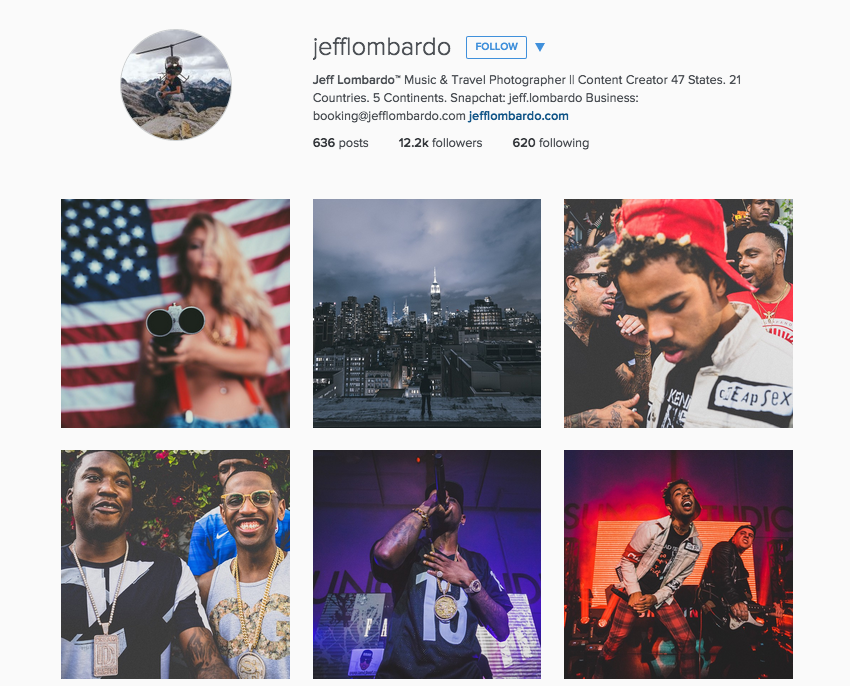 I connected with a guy on Instagram by the name of Lenny S. (@kodaklens) – (Music Industry Executive / RocNation A&R / personal photographer for JAY Z and Beyonce.) We had a mutual respect for one another's accomplishments and we were a fan of each other's work. He invited me up to his office at Def Jam and we talked about how we could help one another.
He knew I was traveling, taking pictures, and had design and Internet experience. He asked if I would be interested in doing lifestyle/travel photography for music artists while traveling the world. A few weeks later he sent me a text asking if I wanted to go to Haiti with NE-YO. 2 days later I was working as Ne-Yo's personal photographer and documenting the charity work he was doing for the kids in Port-au-Prince, Haiti and hanging out with the President.
At the time, I didn't even own a camera, just an iPhone. Lenny was nice enough to lend me his 5D and give me a 5-minute run through of how to use it. The rest was up to me.
As far as I was concerned, I had it down, visually. My eye, creativity, and compositing skills were already trained from being a designer. I wasn't far off from where I needed to be right out of the gate. I was far from a photography expert, but I had potential and someone willing to give me a chance because he believed in me. In my case, I had two people who believed in me. Lenny, and another good friend, Antonio Key, who helped me purchase my first camera. That was all I needed.
I went on to work with Ne-Yo for another year and a half before we went on the R.E.D. Tour in the UK. I got my first experience shooting concerts while on tour. We were in a different city every night. The best part is being in the pit, having a bunch of screaming fans behind you every night and they all look different because you're in different parts of the world. It's a very humbling experience.
Shortly after the tour, I found myself back in New York and the city was buzzing about EDC that weekend. I had an itch to get out and shoot, and having EDC be a concert/festival in my own backyard, I thought it was a good opportunity to diversify my portfolio. I didn't know anyone in electronic dance music because I never cared for it.
I saw a Facebook friend post something about EDC regarding the founder, with whom he had a relationship. I decided to reach out. Based on my credibility of him seeing all my previous posts, body of work, and my online persona, I was hooked up with a press pass through the founder. Once I had that connection made, I shot EDC New York.
The vibe, atmosphere and energy of EDC converted me into a fan almost instantly. The people from Insomniac/EDC were happy with my work and I expressed interest in shooting EDC Vegas. After Vegas, I expressed interest in EDC London. By the time I got to London we had built up a working relationship and they upgraded my press pass to an all-access stage pass. While out in London, I networked with their UK partners and the cycle continues until this day.
Lazy people call this luck, others call it good networking. Relationships are worth more than money. Luck doesn't just fall from the sky. You have to position yourself in front of the right people. You have to know how to seek out the movers and shakers. This business is 20% photography and 80% marketing.
Some people have a lot of talent and never go anywhere. Others have a little bit of talent and go everywhere and that's because talent isn't enough, you have to hustle.
If you told me 2-3 years ago that I was going to be a photographer, I probably would've said you're nuts. But here I am on 500px.com—the Internet's home of photography—writing as a photographer.
Life works in mysterious ways. I never saw it coming. The more I look back at how I got here the more I'm convinced I was destined for photography as part of my creative evolution. Photography never appealed to me as a profession before but a combination of technology, timing, and opportunity sparked my interest in it this time around, despite always being the industry.
How did you find out about 500px? How do you like it here?
Jeff: Once I got my first DSLR I knew there was a lot to learn and the only way to shorten this learning curve was to educate myself as much and as often as possible. I completely disregarded my daily life and put all my focus on learning the technical aspects of a camera. I became very boring among my friends and spent 16 hours a day researching tips, techniques, and the movers and shakers in the industry.
"You have to have 10,000 hours in a subject to be an expert." – Malcolm Gladwell
I watched 90 hours of online videos in a week. I isolated myself from the world and kept the bigger picture in mind. One link led to another link and I stumbled upon 500px.com.
After processing and digesting all the information I came across, I thought I was making great progress—until I saw the work on here. Once I saw some of the photos I seriously thought about giving up. I felt light years away from what these guys were putting out. The photos on here are incredible and it could be very intimidating if you're just starting out.
But I didn't give up, I stuck with it and now that I picked up on things, I'm inspired, not intimidated. I can only hope that I leave the same impression on others that was left upon me.
Could you tell us a bit about EDC and what is it about?
Jeff: Electric Daisy Carnival (EDC) is an international annual electronic dance music festival held in the United States, Puerto Rico, and the UK as of 2013. The festival has been hosted by venues in California, Colorado, Florida, Nevada, New Jersey, New York, Texas, and Puerto Rico.
Originally a one-day Southern California event, EDC spread to multiple venues in multiple states from June through August. The Las Vegas event lasted 3 days in 2011 and drew a grand total of 230,000 people, and the 2012 event drew a grand total of 300,000+ people. It is the largest North American electronic music festival and dance music event. In 2013 EDC was held in London and Chicago for the first time.
The motto is P.L.U.R. – Peace, Love, Unity, and Respect. Whether you're on the grounds or on the stage, it's amazing to see how many flags from different countries are in the crowd. It looks like the Olympics. It's a global movement. The energy is comparable to none.
Have you shot electronic music festivals before?
Jeff: At the time of this writing I've shot a total of 3 electronic music festivals this year and have 6 more booked. I had this crazy idea of shooting every major music festival and concert in the world. So far I've been crazy enough to make it happen one at a time.
What's the difference between photographing an electronic music festival VS a concert?
Jeff: The main difference between photographing a festival and a photographing a concert is the size of the venues, size of the crowds, and the atmosphere. Festivals are much larger and can be anywhere from 12 hours to 3 days. Festivals are outdoor and have anywhere from 20-200 artists performing on multiple stages for 60-90 min each. A concert is generally indoor with one stage and have anywhere from 1-5 artists who only perform a few songs.
Is there any difference in equipment that you bring/or in your preparation process?
Jeff: My equipment choice usually depends on what type of event I'm shooting, the location, how long the event is and who's performing. I usually make a decision if I want to shoot wide, close, or telephoto before I get there and then bring equipment for that particular look.
I've packed everything before and hated carrying it… that's when an assistant would come in handy. These festivals are held in parks and speedways. They're huge. It's not far fetched to walk 5+ miles throughout the day if you want to capture everything. You're also walking on dirt and/or grass which isn't flat on your feet so it's not as easy as walking on a street or sidewalk.
I also try to avoid being "that guy" who carries around an obnoxious amount of gear and looks like he's carrying a TV news truck on his back.
I like to be comfortable and enjoy what I do. If you're not comfortable, you're working. I don't have anything against working, but that's not why I got into photography. I enjoy photography but the minute photography becomes a job instead of a hobby I get paid for, I've lost.
When you're running around festivals from stage to stage in 90+ degree weather, through wall to wall crowds, the last thing you want to do is carry 30lbs of equipment on your back.
Dealing with back pain, sweat, heat, and being aggravated with loud music blasting blasting isn't the best space to be creative in. Less is more. The equipment doesn't matter, the access does. It's not what you have, it's where you're at.
How does one go about getting a permission to shoot such a concert? Is a special pass needed or can anyone bring a camera as long as they pay admission?
Jeff: Venues don't allow anyone to bring a DSLR or a camera with an interchangeable lens of any kind unless you have a media accreditation. Speaking of media accreditation, I wish I had solid advice on how to go about it but what's worked for me won't necessarily work for the next person (and vice versa.)
I didn't get in the traditional way. I utilized my resources and contacts. However, I'm not the only one who knows someone. I may have skipped a long line of everyone else trying to get here, but I still have to compete with everyone else who has the same connection. People say it's not what you know, it's who you know—I think it's both.
It comes down to having an attractive portfolio, networking, and a likable personality. To work top-level events you have to work for a news or media outlet because they don't give media passes to freelancers. For other events, sometimes it's just as easy as applying for one. Other times you just have to track down the decision makers and talk your talk.
Just because one person says no doesn't mean the next one will. Some people power trip and say no because they can or because they're having a bad day. Keep going! Just don't step on anyone's toes or go over anyone's head. As long as they like you, trust you, and you're adding value, you should be ok.
Are there any obstacles while you are shooting at such a festival (i.e. food/drink/a place to rest/equipment or light challenges)?
Jeff: When you're working for the festival you have access to the media areas, which have their own dedicated restrooms, places to set up, eat, drink, etc.
The biggest obstacles I find at festivals is conflicting schedules of artists you want to shoot. There could be two great artists performing at the same time at two different stages on the opposite sides of the park. Some of the artists management only give you the first 10 minutes of each set to shoot them. You either have to give up an artist to shoot, or you have to get your shots with one artist and run to the other side in hopes of being able to shoot the other artist in time.
Again, it always helps to be friendly and likable. Act like this is what you do and you've been there before, even if it hasn't. It's not about faking it, it's about being confident. Make people feel like you're adding value to their life. There are thousands of people who wish they were in your shoes, you have to prove to some people that you're worthy of that spot.
The biggest obstacle from a photography perspective is the lighting. Unlike traditional artists who dance/sing/perform, DJs don't do any of that. DJs have light shows on stage that are tied into their music. Your meter readings are all over the place. You also have to pay attention to lasers. If a laser hits your mirror, say goodnight to your camera.
What was your favourite song from the fest (if there was one)?
Jeff: When Steve Angello dropped "Don't You Worry Child" by Swedish House Mafia at Queen Elizabeth Olympic Park on 50,000 people in the UK. That was a movement! Seeing that many people jump up and down and sing the same song was definitely a moment I'll remember forever. You can actually see a 15 second clip of that moment on my Instagram page:
What equipment did you take with you?
Jeff: I'm a Canon shooter. I run with a 5D Mark III. When working concerts or festivals, my go-to lenses are the Canon EF 16-35mm f/2.8L II, Canon EF 24-70mm f/2.8L II, Canon 24-105mm f/4L IS, Canon EF 85mm f/1.2 II, and a Canon EF 70-200mm f/2.8L IS II.
Do you work with available light or in some situations use flash/other controlled sources of light?
Jeff: Natural light is always my first choice. You aren't allowed to shoot with flash when shooting a concert, and most of the time you can't shoot with flash at a festival either. When I'm on stage or in the pit, I keep the flash off my camera. When I'm back stage or walking through the crowd I'll keep a Canon 580 EX II on my camera because you never know when you'll need it.
Do you bring an assistant?
Jeff: Unfortunately, I don't. In order for me to have an assistant they would have to be my clone. I haven't met anyone with my work ethic or understanding on how I like things—and I don't expect to. I'm a perfectionist and I have OCD about small details. It tends to be more frustrating than helpful so I prefer to work alone. I don't like depending on anyone but myself. Call it only child syndrome.
How many hours do you shoot? And how does it feel hauling all the equipment with you?
Jeff: Although I'm at a festival for 12 hours, each festival has certain guidelines on how long you can shoot an artist and how long you can stay in the pit.
Sometimes I only shoot an artist for 10 minutes, sometimes I'll shoot for half the set. The rest of the time I'm at the festival I try to slow down and think about what shots I want/need. If I'm not doing that, I'm either being social, networking, moving from stage to stage, or interacting with the crowd.
Even though I try to move with the least amount of equipment possible, hauling equipment around is my only gripe about being a photographer—but the good outweighs the bad by a mile.
How do you go about selecting which photos to keep/discard?
Jeff: I go with what I'm feeling at the moment in post. Sometimes you get a lot of good shots that contain interactions with the crowds, body language, facial expressions, pyro, etc. You may have 10 good photos from a set but you only need 1 or 2. I think about what photo captures best resembles the energy I felt when I captured it.
I never delete photos though. I think we would all like to save hard drive space but I won't delete any of my photos because technology is always improving and who knows what software will be capable of fixing in the future. Now Photoshop CC can fix camera shake. Who knows what will be next?
I'd rather keep all my photos and have a chance of correcting some of them in the future rather than deleting them and not having any chance in the future. Today's mistake might be repairable by tomorrow's filter.
Was there much post-processing work on these images? Did you use any presets/actions?
Jeff: Having worked in post-production for 15+ years prior to getting into photography, post-production is a big part of my work flow. I have just as much fun in post as I do taking the picture.
Although I label myself as a photographer online for marketing purposes, I don't feel comfortable calling myself a photographer… I prefer digital artist.
There are photographers that have been doing this a lot longer than I have who deserve that title and I don't want to come in as the new kid on the block and start labeling myself as a photographer and disrespect their craft. Besides, who isn't a photographer these days?
Digital artist works fine for me. There's a lot less of those. Not everyone has a computer with Photoshop at home, but everyone has a camera (phone) in their pocket.
I like to be unique and have my own style. I don't want my photos looking like everyone else's. My idea of post-production isn't cycling through preset options until I land on something I like. I'm way more involved and I adjust each slider independently and hop between software until I achieve the look I'm going for. Presets and actions on photos is what templates are to websites.
What are the usual post-processing steps that you do on such images?
Jeff: My post-processing work reflects my design style. Throughout my entire design career 98% of the work was on black backgrounds. I've always been a contrasty guy. When I worked as a designer in the music industry, Hip-Hop was urban, with a dark, dramatic, city feel. That style came natural to me because it's New York.
When I worked as a designer in the movie industry, everything was created with the intent to look cinematic, which was also dramatic. I think my photography style reflects the combination of the two and I've tried to keep the style consistent across the board. I like creating photos that resemble a cinematic scene instead of just a photo. I like the idea of having my photos look like they could have been a screen shot from a movie. That's just my personal taste.
Are there any programs that you prefer using when post-processing?
Jeff: Lightroom 5 and Photoshop CC.
When you save JPEGs what size do you import to for web use?
Jeff: It took me a while to pick a size to settle on. I decided to settle on 1500px because it's in the middle. It's not too big and it's not too small. It's a happy medium so I don't short-change my audience by offering them a smaller size and so I don't short change myself by giving away a bigger size.
It's also important to realize I have to protect the image of the artists and celebrities I'm shooting. I can't save a large file size and risk my photos of these artists being sold on a street corner in New York (laughs). I don't think the artists or their management would be too happy.
Final Thoughts
I just want to thank all the photographers on here [500px] for inspiring me to become better each day. We may all have cameras, but we all have different interests, resources, and opportunities. I'm grateful to be a part of a great community and have so many people comment on my photos.
If I can give back any sort of inspiration like what has been given to me, I would like to let everyone who is reading this know that I've only owned a camera for 13 months and I've accomplished more than I ever imagined. If you can't find a job, create one. Never give up, never stop learning and be persistent. And whatever you do, don't ever let anyone tell you no!
Thank you for the opportunity, Diana. 500px is one of my favorite internet destinations.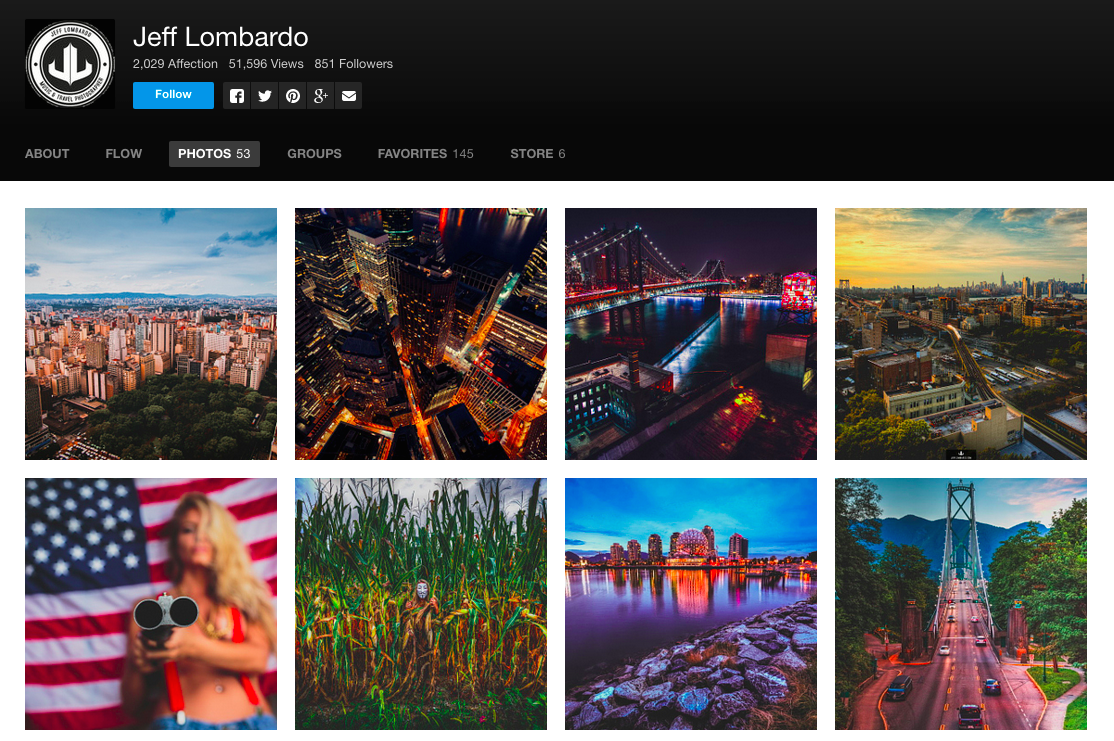 Thanks for reading! If you'd like to add Jeff Lombardo to friends and to keep in touch follow him on his 500px page, website, Instagram, FB, or G+.
Please leave your comments below, Jeff and I will be glad to answer any questions you have.
---
P.S. If you're looking to get tips on how to get a concert pass, check out this article.