Hey everyone! We wanted to let our user community know we are making a small change to how Fresh works. We've heard your feedback and this adjustment will greatly improve the discoverability of your awesome work and increase the chance your photo is seen by our passionate community.
Previously
Previously, Fresh page shows any public photos that have just been uploaded to 500px. Consequently a massive amount of photos come flooding in and Fresh moves very quickly. Once they are in the 500px site, they can then sometimes be difficult for others to find.
Going Forward
As of the afternoon (GMT) on Thursday 6 February, only newly uploaded photos that have a Title, Category and at least 3 Tags will be shown on Fresh. However, this change will not affect photos uploaded prior to the change and that are already in Fresh (or in Upcoming or Popular).
Because of this change, the way Fresh is sorted and displayed will change too. Fresh was previously sorted and displayed by the date and time the photos were uploaded. Now they're sorted by the date and time that the photo reached the criteria mentioned above. This means that an older photo that has been private in your Library or didn't have a Title, Category and at least 3 Tags is still eligible for Fresh! Simply fill out the criteria and add the photo to your Profile and it will be included in Fresh.
We're also adding a Fresh section on the Upload page (under the map, bottom right) that will show you if your photo has the necessary details needed to appear in Fresh. Look for this when uploading your photos. Also we have implemented the long-requested feature to detect and preserve (where possible) photo titles/names when you upload or import them to 500px.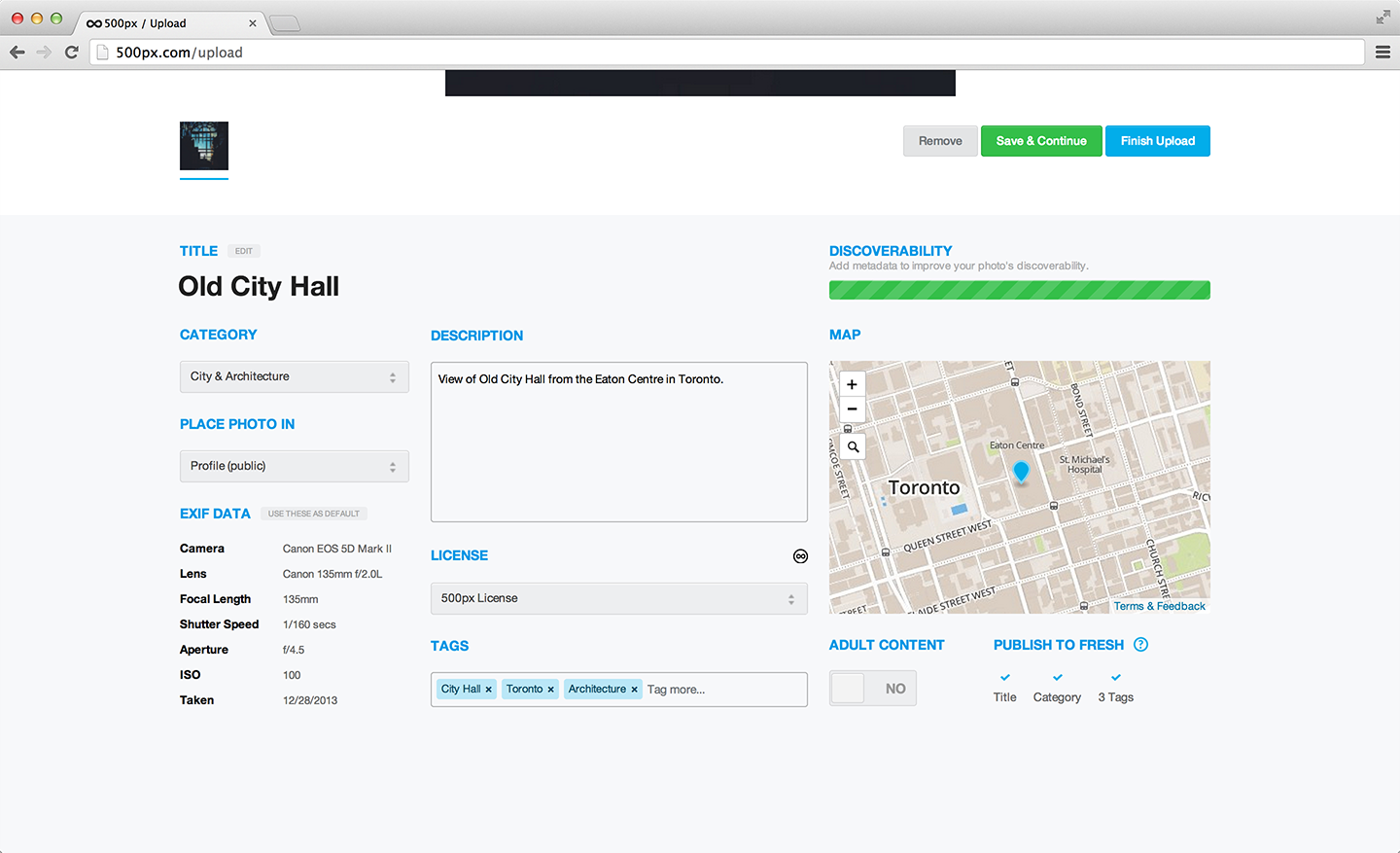 As always, we love to hear your feedback. Let us know what we can do to continue to make 500px the best photographic community in the world! Send an email to help@500px.com anytime!
Jonathan Seet,
Product Manager
500px