Known for his notable work in the beloved BBC sitcom Coupling, as well as in Grownups, Belonging, and more recently in Waterloo Road—Richard Mylan is at ease in front of the camera and the spotlight. But who knew that this Welsh stage, film, and TV actor had the eye for photography and skills behind the lens too?
That's what we delightfully discovered when he recently shared and posted his own images on 500px. From dreamy Santorini to charming Cardiff, he has captured a variety of breathtaking landscapes, striking portraits, and color-soaked street shots. To welcome him to our community of photo lovers, we recently caught up with him and asked about how he got into photography, the stories behind our fave shots, and his advice for breaking into the arts. Read on for an exclusive interview with the inspiring Richard Mylan.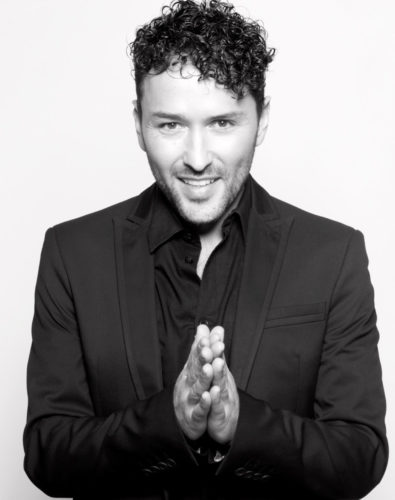 How has your experience in film, stage, and television contributed to the photographs you take?
I think I've learned through immersion about composition and framing. As an actor, you're frequently told to "find your light" so I guess I've learned that too!
What inspired you to pick up a camera and start taking photos?
Documenting life, I suppose. Wanting the hard copies to mental snapshots. Some views are just too beautiful for memory alone. I've always had small, basic cameras, but I'm slowly working my way up! It's addictive.
Your photographs have a very cinematic quality to them. Can you tell us a little bit about your shooting and editing process?
I go through shooting phases, but I always take my camera when I travel. I simply pop the colours, and try not to edit too heavily. I love rich blacks in photography in general.
I notice you take a lot of beautiful landscapes in your travels, and also a lot of portraits. Is there one you prefer over the other?
No, I pretty much love them both equally. I'd love to get better at portraits and explore different styles. That's my mission this summer.
This portrait of your son is so striking. What's the story behind this shot?
My son Jaco has autism, so he can struggle with communication. Every time I photograph him, I feel like I get a little peek into his extraordinary world. This shot was taken on the merry-go-round in Cardiff Bay. It's one of his favourite places.
We love the colors and mood of this image. Can you share with us the story behind this shot, and tell us more about the model?
It's a shot of my wife Tammie at the end of a beautiful day. We'd trekked up a volcano that day. If you get a chance to do that, I highly recommend it. It puts you in a very contemplative place.
Where do you see the future of your photography headed?
I'd love to study photography more in depth, upgrade my camera and equipment. Hopefully, I get to do both this year.
Is there a photographer or artist that inspires you?
Adam Merchant. I follow him on 500px. Absolutely love his work.
"Zebra" by Adam Mechant
If there was one person, alive or not, that you could photograph, who would it be?
Gene Kelly! I'm pretty much a super fan! I would've loved to have photographed him in his prime.
What's next for you in 2016? Any projects you're currently working on that you can share with us?
I start rehearsals for a new play, Things I Know To Be True by Frantic Assembly, my favourite theatre company on the planet! We open in London, early September at the Lyric Hammersmith.
Sounds very exciting! Do you have any advice for young folks who want to grow up and get into the arts, whether it's photography, acting, or other mediums?
If you love being creative, don't limit yourself. Have many strings to your creative bow. Above all, believe in your ability absolutely, and learn to handle rejection quickly. It's an inevitable part of the process.
To see more of his striking work, follow him on 500px, Twitter, or check out his website.