Your brand needs great photos—something to catch the attention and imagination of your audience. But what's the best way to get the images you need? Well, that depends on what you're going for.
Here's a quick guide to how to figure out which option is best for you:
1. Do you need… High quality imagery and a great price?
Choose: Marketplace. Premium royalty-free stock photos from the 500px community.
We offer a large selection of photos from top photographers all over the world.
Keep in mind: The images you buy are not exclusive to your brand, unless you buy an exclusive license.
Find the photo you're looking for by visiting the 500px Marketplace here.
Looking for Lifestyle photos that are authentic and stand out amongst the crowd? Then check out this gallery of Marketplace photos featuring couples.
2. Do you need… Exclusive custom photography on a small scale?
Choose: The 500px Directory. Directory is a way for you to find and hire a photographer from our community. It currently lists 50,000 photographers in more than 11,000 searchable locations across 191 countries, and it's growing every day! You can find talented photographers by specialty and location. Photographer profiles in the Directory include brief bios, portfolios, work availability, equipment, and more.

Keep in mind: You'll work directly with the photographer(s) you select. 500px does not manage the shoots or help write creative briefs.
Find a photographer in your area by searching the 500px Directory now.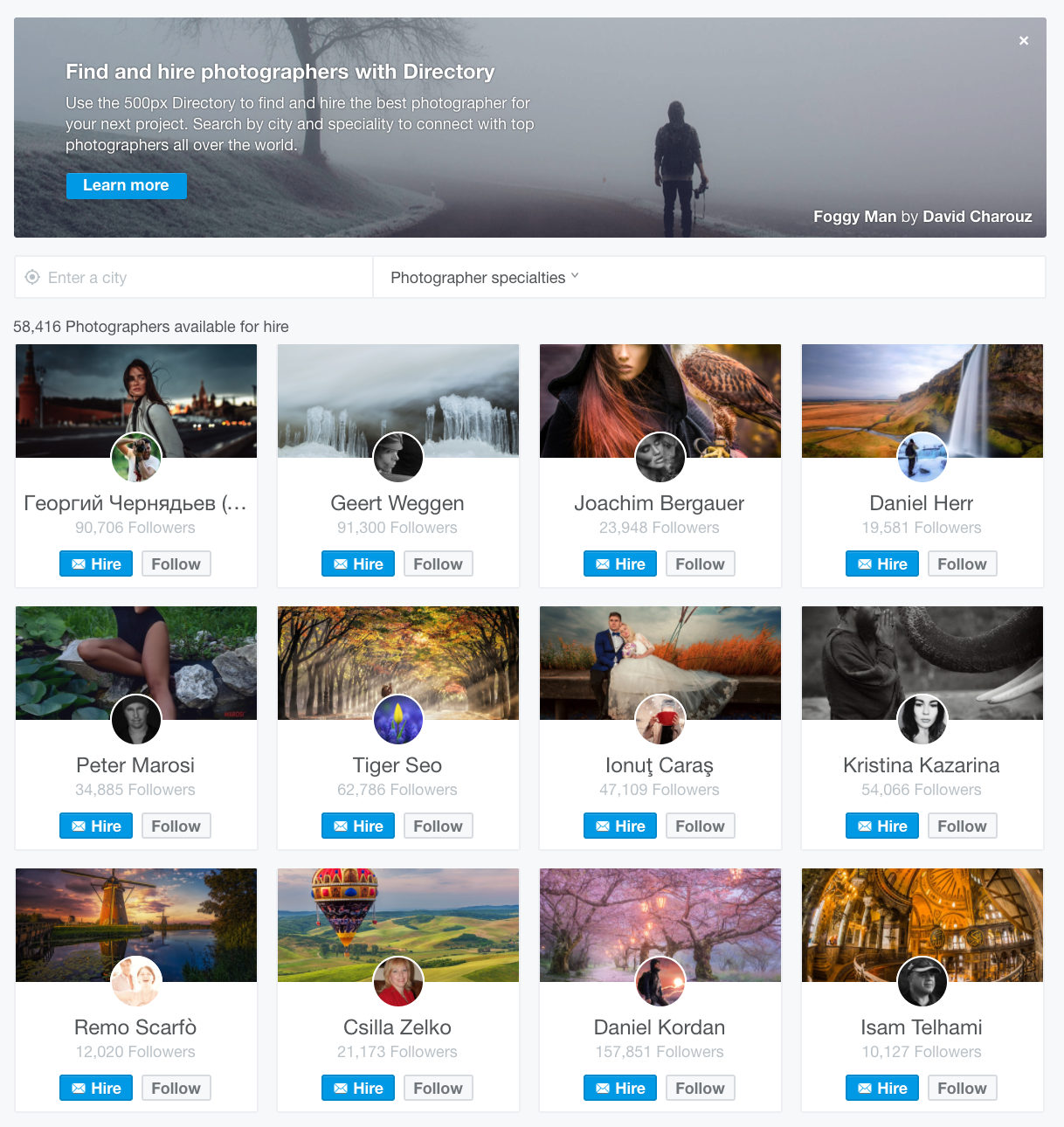 500px Directory can help you find a local photographer in your area.
3. Do you need… Large scale shoots ranging all around the globe and don't want to do the photographer selection and shoot management in-house?
Choose: 500px Assignments. 500px Assignments enables custom photography on a global scale. Now, regional, national, and global brands can mobilize hundreds or thousands of photographers internationally with a custom creative brief and at a cost comparable to buying stock imagery. Brands can then choose from hundreds to thousands of bespoke images, including 360-degree photos and videos. And then go a step further and test those images for customer engagement.
Keep in mind: 500px will help with every aspect of the shoot, including analytics to make sure your images are performing.
Still have questions? Drop us a line and we're happy to discuss your needs.