Last week, we filled you in on all the updates to Marketplace. Since then, we have gotten a handful of questions on how to take advantage of these changes, and we wanted to expand on one of the most common topics: search. We understand how critical search is when it comes to finding great content, and we want to give you the tools you need to find the perfect photo.
What kind of search filters can I use?


SORT BY:

Relevance: This filter brings up the closest keyword matches first.
Newest: This filter brings up newer photos first.

PRIME COLLECTION & CORE COLLECTION:
The Prime Collection features a highly curated selection of the most unique, beautiful, and engaging imagery in the Marketplace. The photos in this collection are hand-picked by our team of expert Content Editors. This collection has been designed to appeal to the world's largest and most discerning publishers, advertising agencies, and technology companies. License prices range from $49-$249 USD.
The Core Collection features a selection of exceptional photography captured with any camera, including mobile devices, and showcases some of the most original content available from the 500px community. Paired with competitive pricing, this collection enables a wider range of buyers to enjoy the world-class imagery they've come to expect from 500px. License prices range from $34-$149 USD.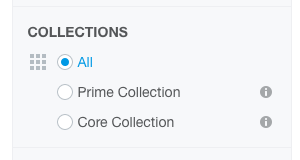 CATEGORY:
This filter allows you to search for photos by various topics, such as "Food," "Landscapes," and "Black & White."
ORIENTATION:
This allows you to limit your search results to photos that match the orientation you're looking for. Choose from "Portrait," "Landscape," "Square," or "Panorama."
PEOPLE:
Choose only photos with people, only photos without people, or all photos.
LOCATION:
Choose only photos that are shot indoors, only photos that are shot outdoors, or all photos.
USAGE:
Choose whether you'd like to view only images that are available for Commercial use, only images that are available for Editorial use, or all images. Keep in mind that images marked as Editorial cannot be used for any commercial purposes. Not sure about the difference between the two? We've got the answers here.
AVAILABILITY:
There are two options for searching by availability:
Immediately available:

When you select this filter, the search results will only include images that are immediately available for licensing. The search results will include both images available for Commercial Use and images available for Editorial Use Only.
ALL:

When you select this filter, the search results will also include some images that are not yet available for licensing. These images will be marked with an orange banner that reads, "This photo is not yet available for licensing." This message indicates that 500px has not reviewed the photo for licensability and quality or that the photographer has not yet completed the Marketplace submission process.
If you purchase a photo with a pending license, the transaction will be put on hold while our 500px Marketplace research team attempts to secure the photo for your use. Usually we can secure it within a few days, but if we're unsuccessful, we'll refund your deposit after five days. Because we have not validated the photo's licensability, we cannot always ensure that it will be available or appropriate for commercial use. If a photo is not available for commercial use, it can sometimes still be used for editorial purposes.
How can I exclude certain images from my search results?
You can exclude images tagged with certain keywords by putting a dash in front of the word you'd like to exclude. For example, if you'd like to search for images of food, but wouldn't like any fruit in your search results, type food -dessert in the search bar. Please keep in mind that the spacing of the dash matters!
I'm not finding the types of photos I'm looking for.
Try these tips:

Add more terms. A space between words means "and." For example, searching summer food

will bring up photos that are tagged with both the keyword "summer" and the keyword "food."

If the word has more than one meaning, such as squash, then add other keywords to clarify the meaning of the word. For example, if you are looking for photos of the food squash, search squash food

. If you are looking for photos of the sport squash, search

squash sports

.

Try searching by concept. For example, add keywords like love

and

teamwork

.

If you have too many results, try adding more specific terms, instead of general words. For example, instead of searching dog

, search for

dog running

or

dog sleeping

.

If you don't have enough results, try removing specific terms or replacing them with synonyms.
Add in special terms along with your keywords, such as copy space, tilt, and motion blur.
---
Visit Marketplace and explore our new search functionality. We're always trying to improve the experience on our platform, so let us know if you have suggestions!
Header photo credit: Inna Mosina