UPDATE: It's been over a year since 500px Prime was introduced to the world! Check out the Prime story as told today by reading THIS UPDATED POST.
---
Hey there! We are excited to share with you a sneak peak into our new project 500px Prime, a commercial licensing marketplace for 500px photography. We hope that you will soon become part of it.
Prime is a convergence of the growing demand to be able to license the amazing photography on 500px and a growing demand for a way for our photographers to be paid for their work. Our vision is to fundamentally change the way photos are licensed. A big part of this is changing the way photo licensing companies work with photographers.
What's different?
First: We are pricing all licenses in a way that brings dignity to the photographer, we are not joining the race to the bottom. Our licenses will start at $250.
Second: We are giving you, the photographer, 70% for every one of your images that we license. It doesn't matter how it is bought, who buys it, or under what license, your 70% comes off the top.
Third: We are using the power of the 500px community to give buyers insight into how photos will be received and perceived before licensing them. Imagine searching images by potential vitality, hero status and visceral reaction. This is revolutionary and something only 500px can do.
You can expect a transparent and honest relationship with 500px as we work hard to make us both successful. Help us spread the word and pass along the link of http://prime.500px.com to any buyers or sellers you know who might be interested in joining Prime.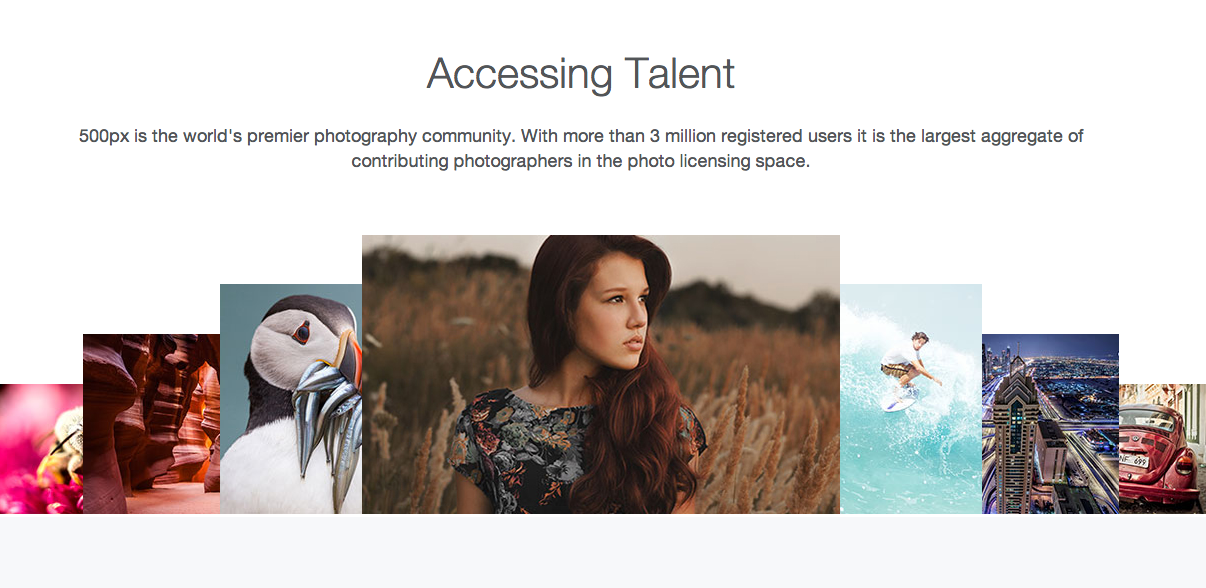 Want to buy photos?
Let's talk! Email Dustin at dustin@500px.com to get more information about Prime, pricing and other details.
Want to sell your photos on Prime?
So many 500px photographers want a way to share their work in the commercial space but don't have the time, skills, or funds to market themselves and deal with all the legalities. We want to help you do that. Let us connect you with the top buyers in the commercial licensing space.
Join now and send a note to primephotographers@500px.com. Our team of content editors are currently combing through the site and looking for photos to be included in our launch series. You could be hearing from them very soon if your photo is selected!
We've been working extremely hard on this project and we hope you will love Prime as much as we do. That is all we'll say for now, but stay tuned for more information.
500px Team