Every month we offer our photo buyers a free image download to jumpstart their creativity. The print-ready photo comes with a royalty-free license and is approved for global usage, so you'll have peace of mind using the image across any campaign. For the month of August, we're inviting you to download "Flouring" by Arman Zhenikeyev, a 500px photographer based in Kazakhstan. Zhenikeyev shared the story of this pastry that was made with love.
I love to eat baked goods and like to see how people prepare these cakes, pastries, etc. Sometimes it's a magical process, so I often shoot bakers at work. These are my wife's hands as she prepares the dough for a sweet cake. I tried to not disturb her and just observe from nearby while I took photos.
When we first saw this photo, we were captivated by the intimacy Zhenikeyev captured in the moment. The tight crop on solely the hands provides a visual reminder of the artisanal quality of food and goods actually shaped by humans, not by industrial-sized mixers or on an assembly line.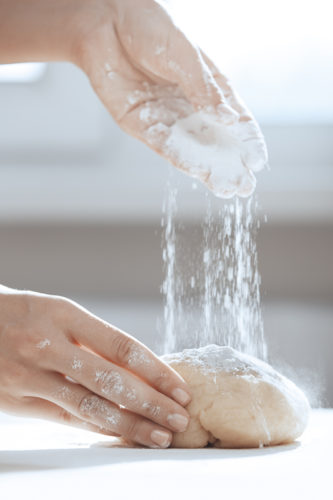 The natural light of the room highlighting the flour as it falls across the dough creates a tangible, in-the-moment feeling to which viewers can relate. We are transported there, into that kitchen with this baker as they use to their hands to make a dessert from scratch that we can only imagine family, friends, or even strangers will soon enjoy. The bright, pleasing light of the scene combined with an activity that most people will associate with happy memories of baking alongside loved ones creates a compelling scene that will go far in creating a connection with a target audience. Also, the vertical orientation of the image is ideal for use across digital work now that most web traffic is dominated by mobile use.
Download August's free photo of the month here. Check out the rest of Arman Zhenikeyev's collection on his 500px profile.